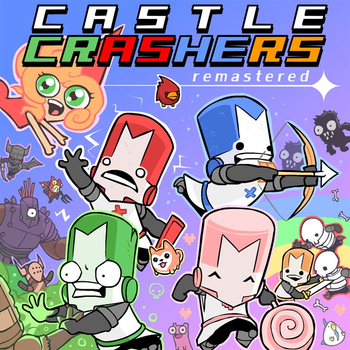 Castle Crashers
is a
Beat 'em Up
available on the
Xbox Live Arcade
, Playstation Network, PC, and Mac. Created by Tom Fulp of
The Behemoth
, creator of
Newgrounds
and
Alien Hominid
, it maintains the comedic style and artistic look you might find on his web site.
You (and up to three of your friends) are gallant knights, fighting off a barbarian horde, lava beasts, the undead and the like to rescue four beautiful princesses who have been abducted. That's the extent of the story for this game. It's all about playing an oldschool-style hack-and-slash on high-definition gaming technology, with cheesy (and at times disgusting) humor.
First released on Xbox in 2008. In 2015, the game was remastered for the Xbox One and PC. Then in 2019, the remaster was brought over to the PlayStation 4 and Nintendo Switch.
---
Castle Crashers contains examples of:
open/close all folders
A — F
G — M
N — S
T — Z
---