All spoilers for previous installments in the franchise up to Street Fighter V may have been left unmarked. You Have Been Warned!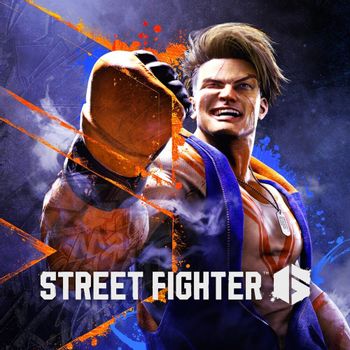 "When you go looking for strength, it's not like a game. This journey doesn't have a real ending."
— Luke Sullivan
Street Fighter 6 is a 2½D Fighting Game developed and published by Capcom as the seventh main entry in the Street Fighter franchise.
Touted as the "next evolution" of fighting games, Street Fighter 6 marks the biggest shake-up for the series since Street Fighter II. The game's story finally moves past the Cliffhanger Wall presented in Street Fighter IV and V, pushing the timeline past Street Fighter III: 3rd Strike after a 24-year wait. The series also gets a major graphical overhaul through the power of Capcom's RE Engine, with characters and environments now rendered in a more realistic style, and all of the returning characters getting radical new looks.
The game is split between three core modes: World Tour, Fighting Ground, and Battle Hub. World Tour is an expansive single-player story campaign that focuses on an extensively customizable Player Character who sets out to discover the meaning of true strength in the Street Fighter universe. The action primarily takes place in a pair of explorable Wide-Open Sandbox locations as well as several smaller spots across the globe, as the player faces many trials as they fight with many NPC fighters in both 1-on-1 and multi-man battles, take part in multiple minigames to earn cash for travel, and train with the legendary World Warriors to learn their special moves that they can add to their moveset to evolve their fighting style and reach new areas in the overworld.
Fighting Ground is the mode focusing on traditional 1-on-1 matches in both local and online play, which showcases the newly refined fighting gameplay. The biggest new addition is the Drive Gauge, a refilling meter that allows players to use special Drive abilities in exchange for the gauge, but will leave them in a drastically weakened "Burnout" state if it's emptied out. Other additions include the return of the multi-level super bar from the Street Fighter Alpha trilogy, with each character having three different Super Arts, an Extreme mode that allows players to set up matches with special conditions and gimmicks, and the addition of two new control types; in addition to the classic six-button control scheme, 6 adds Modern, a four-button scheme that allows players to pull off moves with simple button presses and directional inputs similar to Super Smash Bros. in exchange for less specific control, and Dynamic, a scheme exclusive to local play that simplifies attacking to a few buttons, which change what they do depending on the character's position. Fighting Ground also features a traditional Arcade mode, letting players select a fighter and see them in their own mini-arc as they battle through a series of opponents and bonus games, and new character-specific tutorials that give a quick rundown of each character's basic playstyle and how to use their special moves.
Finally, Battle Hub is the game's major online multiplayer component. Players represented by their World Tour avatars can come to this arcade-like facility with up to 100 people per server, where they can duke it out by getting onto a cabinet, participate in special events and tournaments, buy special gear for their avatars in the Hub Goods Shop, and even play some Capcom arcade classics.
First teased in February 2022 before being fully revealed on June 2, 2022 during Sony's State of Play presentation, the game released on June 2, 2023 on PC via Steam, PlayStation 4, PlayStation 5, and Xbox Series X|S. A closed beta test ran for Battle Hub through October 7-10, 2022, a second closed test ran through December 16-19, 2022, an offline demo was released for PlayStation consoles on April 20, 2023, with Xbox and Steam following on April 26, and a final open beta test for Battle Hub ran through May 19-21, 2023. An arcade version of the game distributed by Taito (who also brought V to arcades) titled Street Fighter 6: Type Arcade is also in the works to release sometime in 2023.
Capcom and UDON Entertainment also announced a five-issue prequel comic miniseries
, titled Days of the Eclipse, with "Issue 0" releasing on May 6, 2023 for Free Comic Book day and the miniseries releasing on a weekly schedule throughout May until the game's launch.
Previews
Pre-release:
Post-release:
Playable characters
Italics
indicates DLC
DLC Releases:
Year 1:

Rashid: July 24th, 2023
A.K.I.: September 27th, 2023
Ed: Winter 2024
Akuma: Spring 2024
We tropin' fools are all getting to it, on the streets!
---
I ain't ever backin' down (Come and step up to the plate)
For my city for my town (I'll do whatever that it takes)
Imma go and get the crown (Oh)
To the top, I see the sight, I see the sight, I see the sight, yeah
---