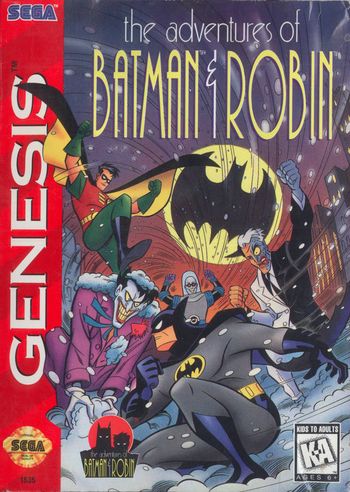 The Adventures of Batman and Robin is a 1995 Licensed Game for the Sega Genesis based on Batman: The Animated Series, developed by British studio Clockwork Tortoise. It is a run-and-gun in the vein of Gunstar Heroes, but instead of guns, Batman has an unlimited supply of Batarangs. The game also contains an extended Shoot 'Em Up level in the Batplane, and two shorter such levels where Batman wears a jetpack. The game is best-known for its extreme difficulty and its complex acid house-inspired industrial soundtrack from Jesper Kyd.
The game is divided into four levels, each one centering around a member of Batman's rogues' gallery: The Joker, Two-Face, the Mad Hatter, and Mr. Freeze. You must help Batman get through these levels and capture all four of the criminals.
Not to be confused for the Super Nintendo game of the same name, developed by Konami, which while being based on the same medium, is a completely different game.
Also not to be confused with the Sega CD game of the same name, which despite being developed by the same company as the Genesis version, was built to be an entirely new game that takes advantage of the Sega CD hardware rather than an enhanced port.
---
Tropes present:
---