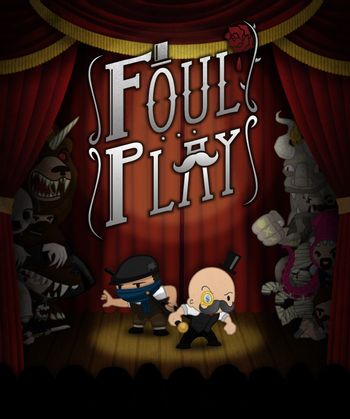 Foul Play
is a side-scrolling co-op
Beat 'em Up
developed by Mediatonic and published by
Devolver Digital
.
The game is set around a play starring Victorian daemon-hunter Sebastian Dashforth, and his sidekick Scampwick Steerpike, acting out their life story on stage, hunting daemons in 5 plays. The game features RPG elements, such as a levelling system which unlocks special moves and unlockable charms, along with standard Beat 'em Up mechanics. What makes the game stand out is the whole "Play" aspect. Everything has the look of a stage show, right down to the background transitions and various other quirks, and health in the game is represented by a meter that quantifies crowd excitement, which can be restored by way of combos.
Foul Play was released on the 19th of September 2013 on Xbox Live Arcade and Steam, and then on the PlayStation 4 and Vita on the 23rd of February 2016.
Has nothing to do with the 1996 murder mystery adventure game of the same name.
---
This game provides trope examples of: