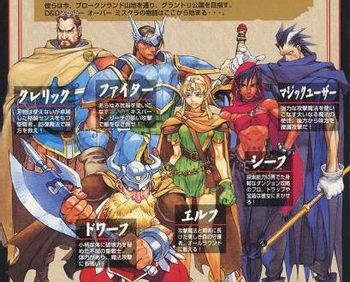 "Welcome to the D&D world!"
— Sound effect for coin insert
Set in the world of Mystara, these games are side-scrolling beat-'em-ups by Capcom originally released for arcades and ran on the CP-System II hardware.
Dungeons & Dragons: Tower of Doom (1994)
Dungeons & Dragons: Shadow Over Mystara (1996)
A compilation of both games titled
Dungeons & Dragons Collection
released exclusively in Japan for the
Sega Saturn
in 1999. Both
Tower
and
Shadows
were released on the PlayStation Network, Xbox Live, Wii U eShop and
Steam
in June 18th, 2013 as
Dungeons & Dragons: Chronicles of Mystara
.
The games are notable for their unique blending of the Dungeons & Dragons game system and Capcom's then-popular 2D scrolling-brawler engine, put in the limelight by Final Fight back in 1989. The duology is also respected for Capcom's showing their work in regards to using the RPG system's lore and combat rules, and for providing a certain amount of depth to the beat 'em up genre that wasn't previously explored: Characters have multiple special moves, can level up, can use items and magic, can collect money to spend in towns, can equip weapons and armor, and can even choose branching paths as well as look for hidden areas, of which there are many.
The plot is pretty simple: Six adventurers, hungry for glory, hunt down evil and bring peace to the land.
An old but useful FAQ is available here.
---
These video games provide examples of:
---