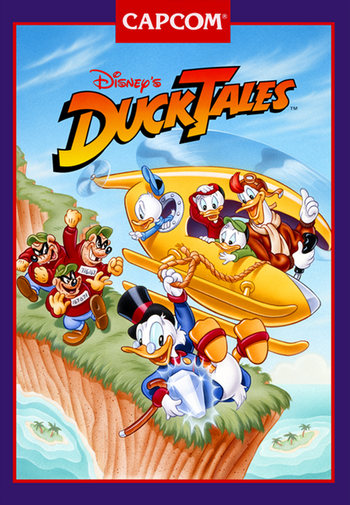 Look to the stars
My darling baby boys
Life is strange and vast
Filled with wonders and joys
Face each new sun
With eyes clear and true
Unafraid of the unknown
Because I'll face it all with you
—The game's famous
"Moon Theme"
as performed
with lyrics
by
Della Duck
(
Paget Brewster
) in
DuckTales
(2017–2021)
The NES game based on DuckTales (1987) was released in 1989 and developed by Capcom (with the team behind this game largely composed of the same folks responsible for the Mega Man (Classic) series) as a product of its licensing deal with Disney. DuckTales shares many of the defining features of the Mega Man games: unique gameplay mechanics, non-linear level selection, and a boatload of catchy music.
The game's Excuse Plot has Scrooge seeking out five Lost Treasures to further solidify his status as the Richest Duck in the World. Scrooge's adventures lead him to the Amazon rainforest, a haunted Transylvanian castle, the Himalayan mountains, a winding maze of African mines, and even the freaking Moon. Along the way, Scrooge encounters several of his old foes (including Magica De Spell and the Beagle Boys) and receives help from his usual entourage.
A sequel, DuckTales 2, followed in 1993. Scrooge has launched another treasure hunt, this time to find the pieces of a map that will lead to an even bigger treasure. The game made significant improvements to the previous game's formula (such as upgrade skills hidden in certain levels and several clever optional puzzles). Both games ended up ported to the Game Boy as well.
Capcom released a HD Video Game Remake of the first game with developers WayForward Technologies working with Disney to bring the game to life (and musician Jake 'virt' Kaufman rescoring the music) on August 13th, 2013 digitally for the PlayStation 3, Wii U, and Windows (via Steam), while Xbox 360 received that game on September 11thnote it was temporarily delisted from digital storefronts from August 8-10, 2019
to March 3, 2020
; a disc-based version of the game came to PlayStation 3, Xbox 360, and Wii U on November 12th. The remake — DuckTales: Remastered — has a new graphical style (one which aims to mimic the original cartoon), difficulty settings to make things easier or harder for gamers of all skill levels, an expanded storyline, expanded levels, a brand-new final level (Mount Vesuvius), the ability to swim in the Money Bin, unlockable bonus content (including a full-length version of the show's theme song), and voice work from the show's original vocal cast (well, those who were still alive at the time). Here's the reveal trailer
in all its earworm-y nostalgic glory. It will get stuck in your head. You have been warned...
On April 18, 2017, Capcom did another re-release set in the form of The Disney Afternoon Collection, consisting of both DuckTales games, almost completely untouched, as well as both Chip 'n Dale: Rescue Rangers games, TaleSpin and Darkwing Duck, ported via Emulation by Digital Eclipse for PlayStation 4, Xbox One, and Windows (through Steam).
---
The DuckTales (woo-oo!) video games contain examples of the following tropes:
open/close all folders
The series overall
DuckTales (1989)
The first NES and Game Boy game provides examples of:
DuckTales 2 (1993)
The second NES and Game Boy game provides examples of:
DuckTales: Remastered (2013)
DuckTales: Remastered, the remake of the first NES game, provides examples of:
---