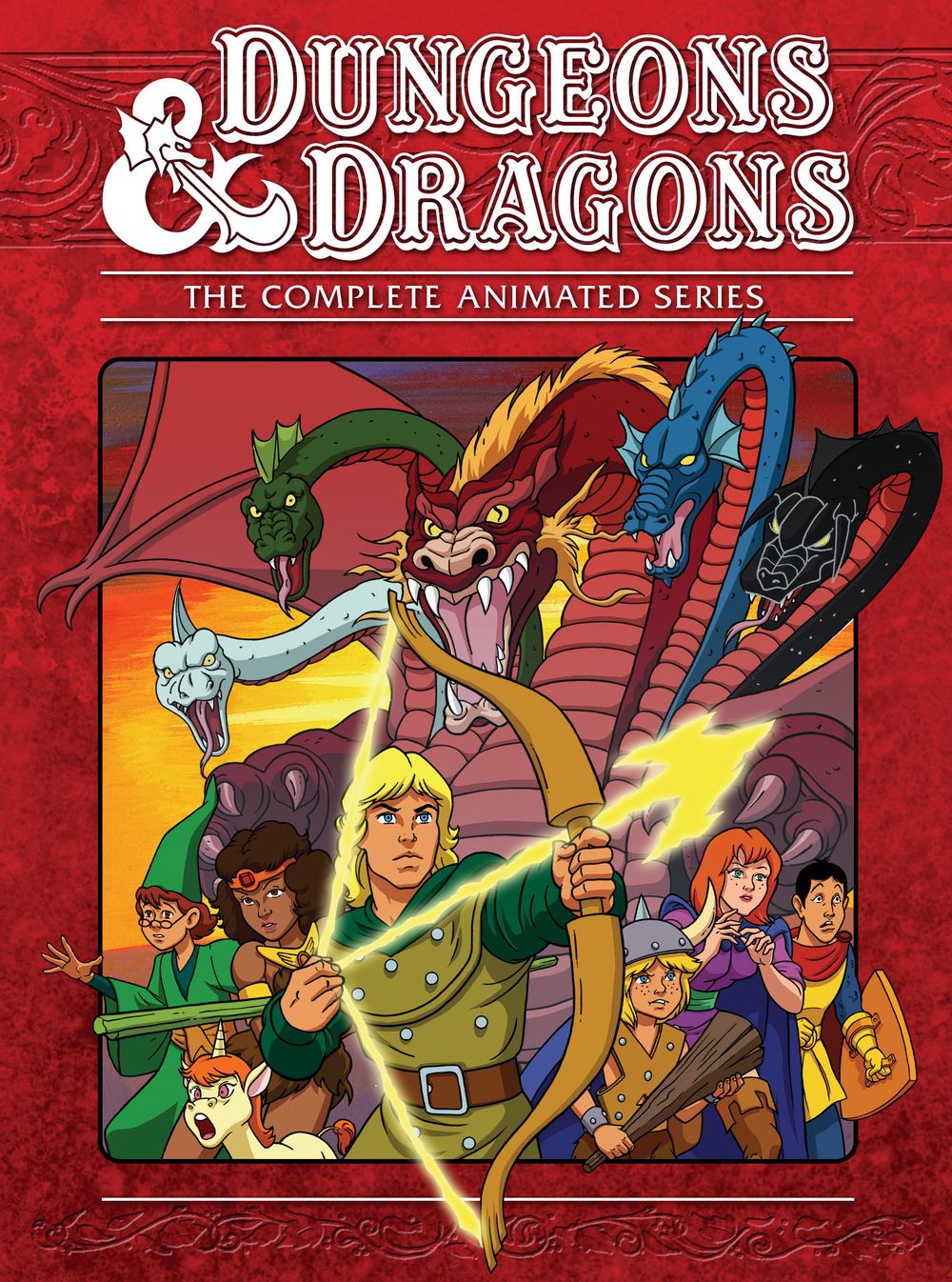 Dungeons & Dragons (often referred to by fans as the "D&DC"note C is for cartoon in order to distinguish it from the game) was an animated television series based on the role-playing game. The show was produced by Marvel Productions and broadcast from 1983 to 1985 on Saturday mornings on CBS. The premise had six friends (Hank, Diana, Eric, Presto, Sheila and Bobby) take a ride in an amusement park and suddenly find themselves in a Heroic Fantasy setting simply called The Realm. They are instantly garbed in clothes fitting their character classes and quickly gain a companion in a unicorn foal named Uni. A Mysterious Benefactor, known only as Dungeon Master, gives each of them an enchanted item to help them survive in that world and promises to help them find a way home.
Together, the kids look for a way home... but the malevolent villain, Venger, is determined to hunt down the items they carry as a means of gaining supreme power. Dungeon Master mysteriously appears at seemingly random times, restricting his help to quest assignments and giving advice in the form of cryptic riddles that frustrate the kids to no end.
This cartoon has the distinction of being one of the few Hasbro-related cartoons not owned by Hasbro. Instead, the cartoon is the property of Disney, who acquired the cartoon along with the majority of Marvel Productions' cartoons when they bought Fox Kids in 2001. This is because Hasbro had no ownership of Dungeons and Dragons at the time of production (they were still with TSR, Inc. prior to that company's sale to Wizards of the Coast, a Hasbro subsidiary). This may explain why Hasbro hasn't acknowledged the cartoon much compared to other Hasbro-based cartoons.
In 2023, the heroes returned for a comic book miniseries as part of IDW's Saturday Morning Adventures line, and made a cameo appearance in Dungeons & Dragons: Honor Among Thieves.
For the tabletop game this is based on, see Dungeons & Dragons.
---
Dungeons & Dragons provides examples of:
Savage Wolves: Minions for Kelek in "Valley of Unicorns"
Scenery Porn: Whoever painted the backgrounds created a Realm that was beautiful and alien and dangerous all at once.
---