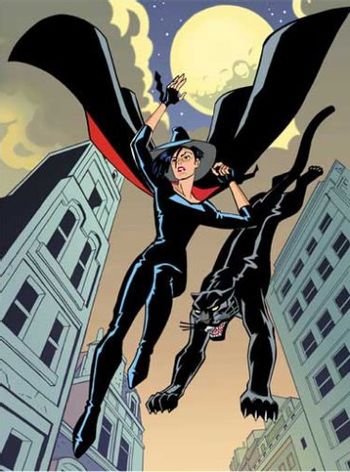 But deep in my heart, I feel love so alive
In the depths of my soul, I know we will survive.
Cybersix was an Italian-Argentinian comic book that had its rights bought by the now-defunct Canadian company Network of Animation, who then passed the animation duties off to the Japanese studio TMS Entertainment, and the result was this cartoon. One of the first shows produced in association with Teletoon, the series lasted from September to November, 1999 for a total of 13 episodes and is considered a classic in Canadian animation and by longtime viewers of the channel.
By night, Cybersix is a female superhero dressed in leather fighting the creations of her own Mad Scientist creator, and putting to rest the bizarre schemes of his son. By day, "Adrian" is a male high school literature teacher, fending off one of "his" amorous students and trying to hide her Secret Identity from her best friend and love interest, Lucas. With him, her black panther sidekick Data 7, and street urchin Julian, Cybersix defends the city of Meridiana while fighting monsters for the sustenance she needs to survive.
Despite its gorgeous animation, a likable and interesting plot and characters, the show only had 13 episodes, and did not receive a DVD release in English until almost 15 years after it aired. Luckily, its 13 episodes form one continuous Story Arc, and it ends satisfyingly. For years, it aired irregularly in Canada and France, so other viewers have largely had to depend on the kind souls that Keep Circulating the Tapes on YouTube. The English version went live on Hulu in 2013, and it finally received a DVD release in late 2014 thanks to Discotek Media with a Blu-Ray release coming October 2023. As of August 2022, the entire series can be legally watched on TMS' YouTube channel
.
If you were looking for the article about the comics, it can be found here.
---
This show provides examples of:
---