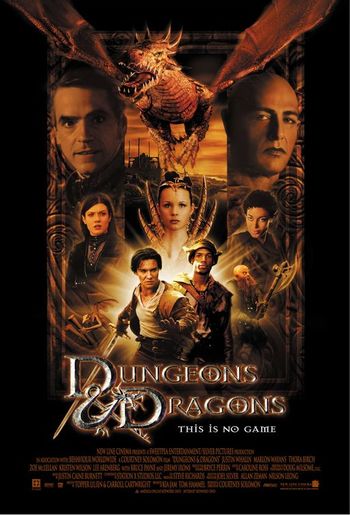 Dungeons & Dragons is a film released in 2000, based on the Dungeons & Dragons fantasy roleplaying game.
In The Empire of Izmer, Mages rule with iron fists whilst the Commoners are lowly slaves. Empress Savina (Thora Birch) wants all her subjects to be socially equal and able to prosper, but the evil Archmage Profion (Jeremy Irons) plots to depose her and establish his own rule. The Empress possesses a scepter which controls Izmer's Golden Dragons. To challenge her rule, Profion must have the scepter, to which end he tricks the Council of Mages into believing Savina is unfit to hold it. Knowing that Profion will soon get his hands on her rod and use it to wreak havoc, Savina seeks the Rod of Savrille, which controls Red Dragons, a species even mightier than the Gold. Two common thieves, Ridley (Justin Whalin) and Snails (Marlon Wayans), plus an apprentice Mage named Marina (Zoe McLellan) get embroiled in these matters somehow and end up embarking on a quest for the Rod themselves, pursued by Profion's top henchman, Damodar (Bruce Payne).
In 2005, a made-for-TV sequel titled Dungeons & Dragons: Wrath of the Dragon God premiered on the Sci-Fi Channel. It spawned another Non-Linear Sequel in 2012, Dungeons & Dragons: The Book of Vile Darkness. A Continuity Reboot, Dungeons & Dragons: Honor Among Thieves, released in 2023.
---
Dungeons & Dragons provides examples of the following tropes:
Ridley:
(looking at the body of
Savrille
) Finally: a Mage who got what he deserved.
---