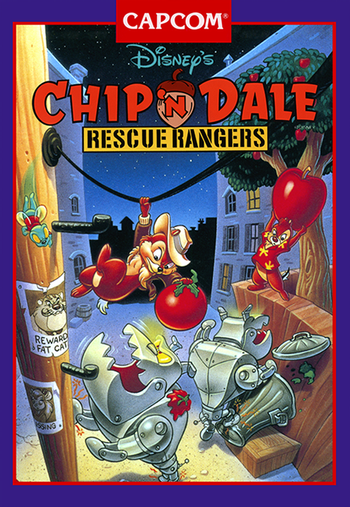 Join Chip 'n' Dale's Rescue Rangers to thwart Fat Cat's evil attempt to control the city!
—Back-of-the-box spiel for the American release of the first game
Two Platform Game adaptations of Chip 'n Dale: Rescue Rangers were published by Capcom. Developed by the same team that worked on the DuckTales game (and also worked on the Mega Man series) for the Nintendo Entertainment System, the games were released in 1990 and 1994. Here Chip 'n Dale get through the levels by picking up and throwing things, including each other in Co-Op Multiplayer.
Both games were re-released for PlayStation 4, Xbox One, and Windows (via Steam) as part of The Disney Afternoon Collection, which also includes both original DuckTales games, TaleSpin, and Darkwing Duck.
This game provides examples of: