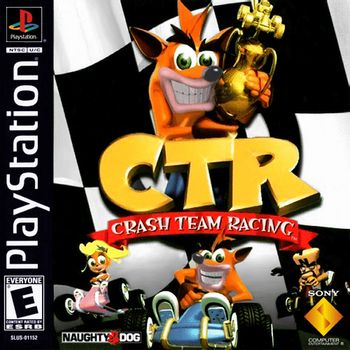 "Get ready to race for the fate of your planet!"
— Nitros Oxide
The first spin-off of the Crash Bandicoot series, as well as the last game of the series developed by Naughty Dog. A Mascot Racer heavily inspired by Mario Kart, and also drawing several elements from Diddy Kong Racing, CTR is often considered to be the best kart racing game on the original Sony PlayStation, if not the entire fifth generation of consoles, though its soundtrack typically isn't viewed with as much praise.
An intergalactic visitor called Nitros Oxide arrives on Earth to challenge the world's fastest racers in a grand prix. Eight characters — each one with unique abilities and under the command of either Aku Aku or Uka Uka — will participate in races and win enough trophies to challenge him or else Oxide will turn the entire planet into a large concrete parking lot and enslave all its inhabitants. Also, there are other characters who want to defeat Oxide on their own and will not tolerate any disturbances in their way.
The game has a Diddy Kong Racing styled 1-player adventure mode; most levels have one of each of these items to get:
Trophies: For winning a vanilla race.
CTR tokens: Remember the Silver Coin Challenges in Diddy Kong Racing? Well, they're back, but this time you only need to get 3 letters in each race.
Relics: Similar to Crash 3, the courses are littered with time-stopping crates. Break all the crates (if you can) for 10-second subtraction from your final time. Finish 3 laps with a good time for a sapphire or gold relic. Or platinum.
There's also bosses (though unlike the ones in Diddy Kong Racing, they're not giant, and they race you in basic karts) and multi-race cups through the adventure, and the battle arenas are converted into contests where you have to get all the crystals in the arena before running out of time (which is cut if you hit a Nitro crate).
The game's roster consists of:
Starting characters: Crash Bandicoot, Dr. Neo Cortex, Tiny Tiger, Coco Bandicoot, Dr. N. Gin, Dingodile, Polar, Pura.
Bosses: Ripper Roo, Papu Papu, Komodo Joe, Pinstripe Potoroo, Nitros Oxidenote .
Other secret characters: Fake Crash, Dr. N. Tropy, Penta Penguin.
Followed by two indirect sequels in the sixth generation of consoles, 2003's Crash Nitro Kart and 2005's Crash Tag Team Racing, though these were made by different developers and recieved a mixed/mildly positive reception. Naughty Dog made their own Darker and Edgier Spiritual Successor in 2005: Jak X: Combat Racing, a well-received spin-off of the Jak and Daxter series.
With the success of the Crash Bandicoot N. Sane Trilogy remaster, the original Crash Team Racing would receive similar treatment by the developer Beenox for Activision, under the title Crash Team Racing Nitro-Fueled. Like the N. Sane Trilogy before it, Nitro-Fueled is available for PlayStation 4, Xbox One, and Nintendo Switch, released on June 21, 2019.
---
Tropes used in this game:
---
"Crash sold his life's story to a major movie studio. The film entitled The Color Orange will be released for the Christmas season. Crash can now be found on a beach down under, doing what he does best... dancing and napping!"
---