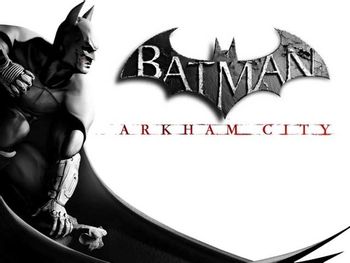 "How does it feel, Wayne, to stand on the very stones that ran with your parents' blood? Do you feel sad? Full of rage? Or does that outfit help bury your feelings; hiding your true self? Oh, you are a truly extraordinary specimen... I look forward to breaking you."
— Hugo Strange
The sequel to the Batman video game Batman: Arkham Asylum and the second game in the Batman: Arkham series produced by Rocksteady Studios. Released in 2011.
The game takes place eighteen months after the events of Arkham Asylum; Quincy Sharp is now Gotham's mayor, having won the election after taking credit for stopping Joker's assault on Arkham. With Arkham Asylum and Blackgate Penitentiary both closed due to the events of the previous installment, Sharp has arranged for all of Gotham's inmates to be moved to Arkham City, an open-air prison built around the slums of Gotham City. Which doesn't sound too bad until you realize that anyone with even the slightest record is thrown in. Which means tax-dodgers and petty burglars are in there with crime bosses, serial killers and lunatics.
Many of Batman's arch-foes are among the incarcerated, returning from Arkham Asylum or being newly introduced as characters within the series.
Psychiatrist Professor Hugo Strange is brought on to oversee the prison. In a complicated series of events, Bruce Wayne gets taken into the city, learning that Strange knows the identity of Batman and has a mysterious plan in motion. Escaping and suiting up, Batman dives into the gangs of Arkham City to rescue Catwoman and encounter many of his Rogues Gallery, who have carved out their own territories — including The Joker, who (true to form) has some wicked plans of his own...
Kevin Conroy and Mark Hamill return from the previous game to portray the roles of Batman and The Joker respectively. Besides the characters mentioned above, Bane, Poison Ivy, Harley Quinn, Victor Zsasz, Killer Croc, and The Riddler return (with Killer Croc being relegated to a cameo appearance, while The Riddler gets a much bigger role than he had in the previous game and is given a physical appearance this time around); newcomers to the series include Robin, Catwoman, Two-Face, The Penguin, Deadshot, the League of Assassins, Mr. Freeze, Hush, Mad Hatter, Calendar Man, Solomon Grundy, and Black Mask.
The combat includes more options and integrated gadgets, there are more enemy types, detective mode involves more forensic deduction, the Riddler Challenges involve more varieties of puzzles, the battles are more expansive and the environments are much larger — but the story is still in a confined setting so that there is a focus to the game and doesn't require you to wander around aimlessly.
In addition to all of the above, there are more challenge game types with loads of new features. Catwoman is playable with a complimentary campaign mission, she is also available as a character to play in the challenge missions along with Robin and Nightwing.
The game became known for an unprecedented number of cinematic trailers outlining the different features. A Primary Trailer,
a gameplay trailer,
the Riddler trailer,
the Penguin trailer,
the Mr. Freeze trailer,
the Joker trailer
and Catwoman trailer.
An Updated Re-release called Batman: Arkham City Armored Edition was created for the Wii U. It features unique controls specially patented for that system. All DLC for the original release are featured in the game, and Catwoman's role as a character is expanded upon. Furthermore, Batman and Catwoman also sport armored costumes (justifying the game's strength-boosting "Battle Armored Tech" mode), optional touchscreen and motion controls for Batman's gadgets, and a sonar to reveal nearby villains and Riddler trophies.
The game also has several pieces of tie-in media:
A comic prequel (also named Arkham City), which was released in mid-2011 and is set between the events of Batman: Arkham Asylum and City. The story follows the Caped Crusader as he works to uncover the truth about Mayor Quincy Sharp's plans for the walled-off Arkham City, and the various villains inside the city walls who are fighting for control.
Arkham Unhinged, a digital-exclusive tie-in comic series which follows various characters in the leadup to Arkham City, including Hugo Strange, Arkham inmates, various villains and different plots that occurred before Bruce Wayne was arrested and put into the city.
Arkham City Lockdown, a mobile game developed by NetherRealm Studios for iOS systems, which pits Batman against a number of enemies and villains (with the addition of Slade "Deathstroke" Wilson and Kano) seen in the core game via a series of one-on-one battles throughout the city.
Arkham City: Endgame, a six-issue digital comic series that takes place directly after the ending of the main game, and involves Batman coming to terms with the blood on his hands.
Harley Quinn's Revenge, a downloadable addition to the main game. The DLC takes place "weeks after" the end of the game, and follows Robin as he heads into the now-condemned Arkham City to rescue Batman and stop Harley Quinn's revenge plot. The DLC was also included in the special Game of the Year Edition, which shipped on the same day.
Has a Character Sheet that includes the previous game.
---
This game contains examples of:
open/close all folders
Tropes A to B
Tropes C to E
Destroy the Security Camera: One of the alternate missions is to destroy all the TYGER security cameras of Arkham City.
Determinator:

Ra's is so determined to prevent Batman from saving his life yet again, that he stabs himself through his chest to make sure Batman lets go as they are falling, finally fulfilling, in his own way, what he had wanted all the time: to be killed by Batman.

Or it was a case of Taking You with Me, or maybe

trying to stab Batman forcing him to take a dip in the Lazarus Pit to save himself.

Again, Batman. Spends a night fighting supervillains

while dying of blood poisoning

.
Batman's determination to keep with his code of not killing (or allowing to die) is really pronounced throughout the game.
Two-Face's reputation as one keeps his men from deserting the gang after his initial defeat, citing his refusal to stay down even as half his face was being burnt off.

And while he takes a couple whoopings, and long stretches go by where nobody knows where he IS, once everyone else's theatrics are concluded he's holding half of a now-unmanned prison city.

Developer's Foresight:

Unfortunately, their thoughtfulness is a huge spoiler if you think to do the following, as

if you turn on Detective Mode while fighting the Joker, you'll see he has no bones... because he's Clayface

. This is changed in the Game of the Year edition but was oddly retained in the Return to Arkham remaster.
Tossing a Batarang at Harley in the church will result in her cartwheeling to the side before resuming her run at Batman.
From the Mad Hatter mission,

if you look at the capsule that has the "cure" in Detective Mode, you'll see a syringe in it. This is notably different from what Batman uses to inject the supposed cure

.
Depending on whether you finish the Bane sidequest before or after you beat the game,

his hideout is ambushed either by TYGER guards who want to confiscate the TITAN before the inmates get it, or a group of Joker mooks who want to either use it for themselves to have a chance of survival now that their boss is gone or just take it back since it was Joker's to begin with.

If you manage to destroy all of the Tyger cameras before Protocol 10, one of the Tyger guards will mention over the radio they are completely blind.
If you steer a remote-controlled Batarang into Batman's head, he'll catch it. There's even a challenge for it.
You can bypass a lot of the first Riddler Room if you use the line launcher. Riddler will remark on it, and mock you for cheating. He'll also do so if you just choose to run across parts of the electrified floor to skip most of it.
In the beginning of the game, after beating up Penguin's mooks, the player could just leave Penguin alone without knocking him out and go up the ladder. The Dev team anticipated this possibility, so they had Penguin say something specifically for that occasion, which is where he taunts Bruce Wayne about him always knowing that Wayne was a coward.
If the player decides to stick around during the "countdown" on the clock tower, Joker will end up summing up the final events of the game before telling Batman that he really needs to get out of there.
Batman can find and destroy five out of the six Titan containers he needs to destroy for Bane's side-quest before ever even speaking to Bane; his dialogue will change to reflect this.
Catwoman has a surprising number of lines that play in specific circumstances. You can go back during the epilogue and visit any of the villains that are locked up or incapacitated (Bane, Mad Hatter, Ivy, etc.), where you will get special one-off conversations where they ask her to release them (which she refuses every time, for various reasons). In addition, she will have a unique conversation with Calendar Man if you visit him, where she says she won't release him after "what happened with the Falcones" (a likely reference to Dark Victory).
It's entirely possible, using a glitch involving standing on a ledge and continually throwing Freeze Grenades on end, to glitch yourself up high enough in the game world to glide over the barrier surrounding Arkham City. Using this method, you can actually fly around and explore the rest of Gotham City. Yes, that big skyline you see in the background throughout the game was actually constructed and was fully detailed by Rocksteady (although the buildings are all hollow inside). You can glide around and watch cars passing back and forth on the bridges, fly to Arkham Asylum (which is also present, although significantly scaled down) and fly up high and see that the game world goes much further than just Arkham City. Most players won't even glimpse most of it (and it will glitch your save file out if you haven't backed it up elsewhere), but the fact that they put all this work into something most players would never see up close is nothing short of incredible.
Several puzzles in the games require you to throw an electrified remote control batarang to hit control boxes out of reach. If you hit a thug with one of these, it'll knock them out instantly. However, there are only two places in the game you can do this, on the Joker's goons when you follow the ninja into the sewers, and on the Two-Face thug you rescue in the steel mill. There's no practical way to use it, it seems to be there just because it makes sense.
In the Iceberg Lounge, if you try using the explosive gel while walking across the ice, Batman will point out that using the gel on the ice is a very bad idea.
When you are fighting

Grundy

and use the REC on him, Penguin will comment on how that was a bad idea.
It's possible to unlock the Riddler side-mission almost as soon as the game begins by finding a trophy (as early as getting the bat-suit), at which point the Riddler will introduce himself to the player and mock you for finding one of the 'easy' trophies. You still aren't able to solve any riddles themselves, but you can begin working on the trophies and challenges immediately with this method.
During a stealth section in the Museum, you can lure a mook away by triggering one of the exhibits, and they'll go and turn it off. If you do this enough times without taking down the responding henchmen, they eventually piece together that it's Batman doing it and irritably tell him to knock it off because it's becoming more annoying than scary.
Some enemy chatter will have a mook bicker about one of the other members of the gang stealing from them. While normally if you take an enemy out in stealth and he's found, their allies will call for reinforcements just to make sure you're not baiting them into a chain reaction - if the dialogue about stealing from each other happens beforehand, the mook will instead tell the others to fan out to find Batman and kicks the unconscious thief while calling him a bastard and saying he got what he deserved.
Tropes F to H
Tropes I to L
Tropes M to P
Tropes R to T
Tropes U to Z
Ultimate Authority Mayor: Quincy Sharp was able to turn half of Gotham into a penal colony where all criminals are dumped, with a special emergency procedure which would allow the TYGER PMC to burn Arkham to the ground. Judging by the presence of the political prisoners, and Bruce Wayne and Jack Ryder's incarceration, it seems that actually being charged with a crime isn't even required. Some justification comes from the quick message stating that the city is under martial law at the time.
Uncanny Valley:

Joker sometimes looks almost plasticine,

possibly because many times Clayface is acting as him

.
The Joker always looks different than your average clown, but in Arkham City

his dying, decaying form looks disturbingly realistic somehow and Clayface's version of him is disturbingly... just slightly "off"

.
The Batman: The Animated Series alternate skins deliberately evoke this; they're rendered in a completely different art style with mostly smooth textures and simple colors.

Underground Level: The areas under Arkham City, which includes the subway and the associated train exchange, the ruins of old Gotham, the sewers and collapsed tunnels, and Wonder City.
---