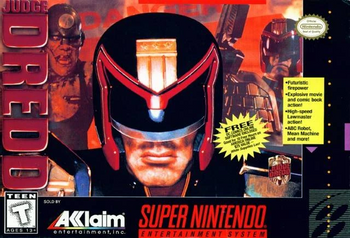 To coincide with the release of the 1995 film based on the Judge Dredd comic, a Licensed Game was produced for the Super Nintendo Entertainment System, Sega MegaDrive / Genesis, Game Boy and Game Gear.
Loosely following the plot of the film, it uses a platform shooter format with the unique option of arresting enemies who have surrendered instead of just killing everyone.
A PC port
titled Judge Dredd 95 has been confirmed for Steam.
---
This game provides examples of:
---