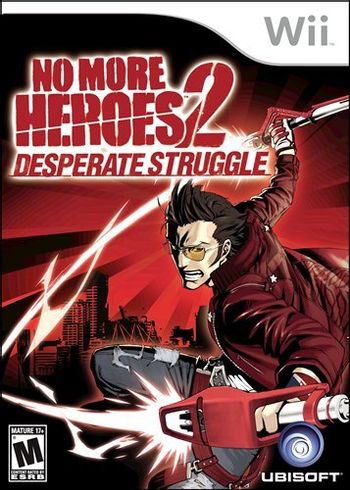 "Everybody deals with grief differently, right? Some people fuck at funerals... I cut off heads."
— Travis Touchdown
The sequel to the surprise Wii smash No More Heroes, Desperate Struggle was released three years later in 2010, developed by Grasshopper Manufacture, with directorial responsibilities given to Nobutaka Ichiki. It made several adjustments to the gameplay design; most notably, the removal of the large city HUB. Ten years later, it got a port on the Nintendo Switch.
Three years after the events of No More Heroes, the city of Santa Destroy has become famous thanks to Travis Touchdown's bloody antics and expanded into a seedy urban hub where televised assassin fights are a popular and profitable form of entertainment. Travis himself has retired from the assassin's lifestyle, but leaps back into the spotlight when a gang of thugs hired by the current #1-ranked assassin murders his best friend Bishop. Hungry for revenge, Travis must murder his way back up the ranks of the United Assassins Association for a shot at the culprit, but due to his years of inactivity he must start from Rank #51.
The game is mostly a Pastiche of the Revenge Movie genre while continuing the systematic deconstruction of the Professional Killer trope and Otaku culture in general. Throughout his journey, Travis meets many people who have been negatively influenced by the assassin lifestyle (including the assassins themselves), the glamorization of the lifestyle (like when he meets a Fangirl who wants to be just like him) or just an inability to let go. Unlike the first game, which presented Travis as a dislikeable Anti-Hero to the end, Desperate Struggle actually features some true Character Development as he slowly realizes just how screwed up everything to do with assassination and revenge is.
A Gaiden Game, Travis Strikes Again: No More Heroes, was released in 2019 for the Nintendo Switch. The game would set the story for the proper sequel, No More Heroes III, which was released on August 27, 2021.
---
This game features examples of:
Travis Touchdown: Pain in MY ass. Why aren't you dead yet?
Skelter Helter: Such blind arrogance! Like the naked emperor...
Travis: Seriously! I cut off your head!
---