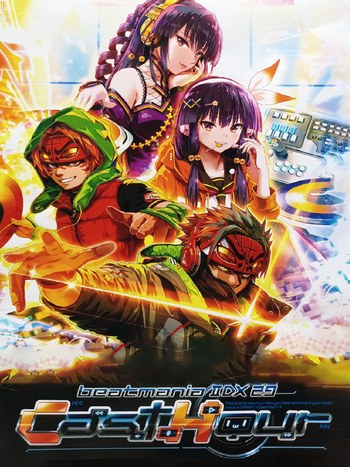 A real-time dance music game hard and extreme. That's beatmania!! It's too cool!
— Official tagline
beatmania is a popular Rhythm Game developed by Konami as a part of their BEMANI games. Considered by many to be one of the forerunners of the modern music game. Of course when they realized how popular the arcade version was, Konami would milk the genre for all its worth with spin-offs (involving dance, drumming, smacking colored buttons, and slapping a grid of buttons), and an endless assortment of Mission Pack Sequels and reboots.
Originally described as being a "DJ simulator", the basic game is simple; players are armed with a piano-styled keyboard and turntable, and must press keys or scratch the turntable when notes cascade down the screen corresponding to them. This fills up a Groove Gauge; if the gauge finishes above a certain threshold, you pass, it's just that simple. But, when you look at harder songs though, it's also anything but. While earlier versions primarily focused on hip-hop, house, and techno music, the latest installments have featured almost every single genre imaginable, especially hardcore electronica in various forms.
There have been three major incarnations of the game:
beatmania (or "5-key" beatmania), the original series. First released in 1997, lasting with new versions until "THE FINAL" in 2002, where the aging series (it used the exact same hardware, and presumably the same engine, for its entire lifespan) was finally discontinued in favor of...
beatmania IIDX, first released in 1999 as a spin-off, but becoming the primary series in 2002. Kept the same basic gameplay, but added two additional keys to the control array (for a total of 7), a fancier cabinet (with more lights, more effectors, a widescreen monitor, turntables on opposite ends, an LED marquee, and a bass platform), and a difficulty curve that keeps on getting worse every year. What'd you expect when it's now on its 31st version?!
beatmania III, a failed attempt to remake the 5-key series using more modern hardware, with higher quality graphics and sound, more effectors, more speakers, effector pedals (which could also be used in special charts), save data on floppy disks, and more. It didn't last long, however, only a few years (it did get its own "THE FINAL" as well).
beatmania IIDX is still popular in Japan, with releases in select other Asian countries such as South Korea, Taiwan, and Singapore, and still tops charts of highest-grossing arcade games in Japan, with no end to the series in sight.note Even the infamous Konami scandals of 2015 didn't slow it down much, as IIDX is an arcade game handled by Konami Amusement; most of the sabotaged properties were consumer-software series made by Konami Digital Entertainment). That said, the problems with Konami caught up with BEMANI in 2017 with the "BEMANI Sound Team" controversy, but even that did not affect IIDX game production much, at least from what can be seen. Several North American versions were attempted a couple of times, including a PlayStation 2 release as just beatmania (based on the 9th Style engine, which featured 5-key and 7-key as separate modes rather than just a modifier) and a beta build of an English version of Gold that was location-tested for a brief period of time. An official American release of IIDX finally happened in 2020.
Compare pop'n music (basically a Lighter and Softer spinoff with large buttons), EZ2DJ (very similar concept, to the point where Konami sued the publisher), and DJMAX (another keysounded "DJ sim" game, made mainly for home platforms).
---
Game list:
open/close all folders
Games in the "5-key" beatmania and beatmania III series:
All entries are arcade releases unless otherwise noted.
beatmania (1997)
beatmania 2ndMIX (1998)
beatmania 3rdMIX (1998)
beatmania completeMIX (1999)
beatmania 4thMIX (1999)
beatmania 5thMIX (1999)
beatmania ClubMix (2000)
beatmania CORE REMIX (2000)
beatmania featuring DREAMS COME TRUE (2000)
beatmania 6thMIX THE UK UNDERGROUND MUSIC (2001)
beatmania 7thMIX keepin' evolution (2002)
beatmania THE FINAL (2002)
Games in the beatmania IIDX series:
Arcade versions
beatmania IIDX (1999)
beatmania IIDX substream (1999)
beatmania IIDX 2nd style (1999)
beatmania IIDX 3rd style (2000; PS2: 2000)
beatmania IIDX 4th style (2000; PS2: 2001)
beatmania IIDX 5th style (2001; PS2: 2001, subtitled -new songs collection-)
beatmania IIDX 6th style (2001; PS2: 2002, also subtitlted -new songs collection-)
beatmania IIDX 7th style (2002; PS2: 2004)
beatmania IIDX 8th style (2002; PS2: 2004)
beatmania IIDX 9th style (2003; PS2: 2005)

First IIDX title to run on PC-based hardware. The transition is infamous for various glitches, including timing problems. Also the first game to support Konami's e-Amusement network.

beatmania IIDX 10th style (2004; PS2: 2005)
beatmania IIDX 11 IIDX RED (2004; PS2: 2006)

Theme: Cores and the color red.

beatmania IIDX 12 HAPPY SKY (2005; PS2: 2006)

Theme: Skies.
First to feature the current difficulty system.

beatmania (PS2: 2006)

First and only beatmania IIDX game to be released outside of Asia.
Uses a heavily modified version of the 9th style interface.
Features two modes: classic beatmania and beatmania IIDX.

beatmania IIDX 13 DistorteD (2006; PS2: 2007)
beatmania IIDX 14 GOLD (2007; PS2: 2008)

Theme: Luxury nightclubs, precious metals

beatmania IIDX 15 DJ TROOPERS (2007; PS2: 2008)
beatmania IIDX 16 EMPRESS (2008; PS2: 2009, subtitled + PREMIUM BEST)

Theme: Royalty in pink.
The PS2 port is the last PS2 IIDX port and the last home port for 6 years, and is on two discs: Disc 1 is the usual set of songs new as of EMPRESS and some revival songs, and Disc 2, PREMIUM BEST, is a collection of revival songs throughout the entire series.

beatmania IIDX 17 SIRIUS (2009)

Theme: Space
First game to have crossover unlocks that require you to play other BEMANI games to unlock them on IIDX.
Introduced charge notes (where you hold down a note and release at the end) and backscratch notes (where you turn the table one way and then the other at the end).

beatmania IIDX 18 Resort Anthem (2010)
beatmania IIDX 19 Lincle (2011)

Introduced "STEP UP" mode, a new mode where you progress through different difficulty tiers.
First game to have song previews on the music selection menu.
Adds the new, stricter lifebar mode "EX HARD".

beatmania IIDX 20 tricoro (2012)

Theme: The colors red, yellow, and blue.
Runs on new hardware, with proper High Definition support.
The modifications window was revamped to include more options (accessed by pressing the VEFX button). In addition to the standard modifications, it allowed players to adjust the appearance of note judgments and score, as well as change the timing offset.
Allows Hi-Speed mode to be adjusted by 0.01 increments, instead of 0.50.
Its soundtrack is the first soundtrack in the series to be released internationally.
An Achievement System called Tran Medals was implemented for eAmusement members. It also unlocks songs.

beatmania IIDX 21 SPADA (2013)

Theme: Medieval, Swords.
First game to allow switching between single and double play before each stage (rather than just before selecting game mode).
Adds a Favorites folder.
Adds new harder "Leggendaria" versions of specific songs.
To further push Konami's digital currency system PASELI (which itself helps to dodge Japan's consumption tax hikes, and only being able to use 100-yen coin increments in arcade games), SPADA began to restrict certain features to higher-priced 120 yen credits that can only be obtained via PASELI — particularly extra stages (which must be unlocked using "V-Discs", which are accumulated when a player starts a game with a PASELI credit).

beatmania IIDX 22 PENDUAL (2014)

Theme: Time and duality.
The game features "present" and "future" phases, depending on the current day of the week. Each phase has its own interface, system music, and exclusive songs.

beatmania IIDX 23 copula (2015)

Theme: Trains.
Introduces "Hell Charge" notes, which are like Charge Notes but will decrease your Groove Gauge as long as they are not held down.

beatmania IIDX 24 SINOBUZ (2016)

Theme: Ninjas.
Depending on the day of the week, there are different interface color schemes and system music, as well as different bonuses or modes unlocked.
There are now "Black Tran Medals" that are intended to be more mysterious.

beatmania IIDX 25 CANNON BALLERS (2017)

Theme: Racing.
Runs on new hardware running Windows 7 Embedded.
Cameras that can be displayed within the UI for recording the player.
The daily bonuses are back, except now there's a "Time Hell" (no lifebar recovery) mode too on one day.
New VEFX presets are added.
Introduces Arena mode, an online versus multiplayer mode where you play against 3 other players.

beatmania IIDX 26 Rootage (2018)

Theme: Libraries, networks
QR codes can now be scanned with the cameras, allowing players to share playlists with other players.
Featured a strong focus on the history of the franchise.

beatmania IIDX 27 HEROIC VERSE (2019)

Theme: Toku
Adds a graph display akin to DDR's "Groove Radar" to display chart traits.
Adds the ability to switch between single and double mode from the music selection screen.
Beginner and Leggendaria are now shown on the difficulty menu (although the latter still requires V-Discs to access).
User-selected language options on sign-in, including English and Korean.
A new "Lightning" cabinet was released in December 2019; they have a new design reminiscent of the SOUND VOLTEX cabinets with "wings" and LED lighting, use new Windows 10 IoT-based hardware, and feature a 120 Hz monitor, lighter keys and a turntable with adjustable resistance, and have a touchscreen in place of the sliders (which also offers features such as the aforementioned turntable settings). There are also songs and features exclusive to these cabinets, such as Eisei Dan (永世段位). In addition, cabinets shipping to Round1 in the United States are loaded with the first-ever U.S.-specific build in series history (defaulting to English and having the extra stage accessible via coin mode like Asian versions).

beatmania IIDX 28 BISTROVER (2020)

Theme: Food, world travel.
Redesigned play and result screens for easier reading, i.e.: the total of judgement notes are now displayed in a pie graph.
Money score removed; the player's EX score is now displayed where the money score used to be.

beatmania IIDX 29 CastHour (2021)

Theme: Television broadcasting
Introduced a new type of backspin scratch, named multi spin scratch (aka MSS).

beatmania IIDX 30 RESIDENT (2022)

Theme: Nightclubs, DNA
Engine upgraded to run in 1080p HD; due to file size constraints it was not deployed as an OTA update over e-AMUSEMENT, requiring a USB drive-based installer.
The bonuses from SINOBUZ have been replaced by day-specific Time Free, Time Free Plus, Time Hazard, and Time Hell modes.
Tran Medals have been largely replaced by unlockable profile badges.
Premium Free mode is now available outside of Japan.

beatmania IIDX 31 EPOLIS (2023) — current arcade version

Theme: Late night radio/futuristic cities
New song folders: a player customized folder, "Beginner recommended" folder (removes the "All Beginner" folder), and a folder for songs that start with a number (e.g., "20XX")
Options H-RANDOM (prevents notes from stacking on top of each other) and EXPAND JUDGE (makes the timing window larger) were removed
Redesigned and expanded playfield customization options
Other consumer versions
beatmania IIDX INFINITAS (PC: 2015)

A PC version of IIDX. Uses a monthly subscription model.

beatmania IIDX ULTIMATE MOBILE (Mobile, 2019)

Mobile port of IIDX that notably lacks keysounds. Free-to-play, but requires a subscription for full access.
---
The beatmania series provides examples of:
Tropes A-G
Tropes H-Q
Tropes R-Z
---
STAGE FAILED
---