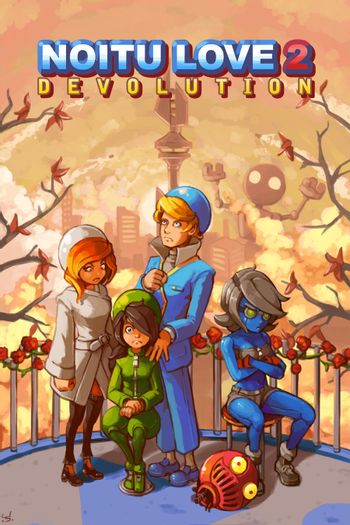 Noitu Love
is an indie game series consisting of two side scrollers developed by
Konjak
.
The first game is a mix of an action game and a platformer, whereas the second one eschews the platform element to make a significantly faster paced action game. The plot of the games is relatively simple. The first game, set in The Future, pits the protagonist, Noitu Love, and his Mission Control, Lori, against a Mad Scientist, Professor Darnacus Damnation and his army of Mecha-Mooks, the Grinning Darns. The second game (subtitled Devolution) takes place further into the future and pits Noitu Love's Distaff Counterpart and Action Girl, Xoda Rap, and her allies Mr. Almond and Dr. Tango, against the Grinning Darns who've mysteriously risen again. And this time, Rilo Doppelori is leading them.
The first game can be downloaded on Konjak's website
, while Devolution can be bought on Steam (with the soundtrack freely downloadable from the aforementioned website). The sequel was also ported to the Wii U and Nintendo 3DS eShops in September of 2016.
---
This series contains examples of:
---