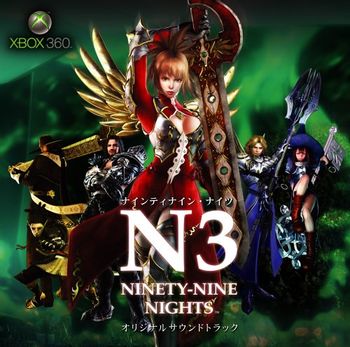 A 2006 Hack and Slash video game for the Xbox 360 by Q Entertainment and Phantagram, creators of the popular Kingdom Under Fire series. It tells the tale of a Middle Earth-esque world where humans are constantly making war with a race of goblins, partly to due to a kingdom's hatred for anything non-human. The story begins when a young female knight by the name of Inphyy challenging her brother Aspharr for the position of Temple Knights. Shortly after her victory, she is sent to drive away the goblins who have taken position of a key fortification within their lands.
The game very much resembles the likes of Dynasty Warriors, except with even more enemies, more over the top special moves, and a looting system reminiscent of RPGs.
Its sequel was released on June 29, 2010. The game's producer, Tak Fujii, promised that it won't be just an ordinary hack and slash game, but that it will be an extreme hack and slash game.
Provides Examples Of:
Bonus Boss: After beating the game with every character, a mission opens up where you fight

The King of Night

.
Gainax Ending: Aspharr's good ending most certainly is this (he's also the only character with multiple endings). Aspharr defeats but spares the apparent Big Bad; Inphyy starts to go after him, but Aspharr stops her. A bright light appears in front of Aspharr and Inphyy, and the game just ends there.
Gray-and-Grey Morality: The humans seem to be locked in eternal struggle with the non-human races, but neither side is particularly better than the other.

The leader of the non-human races is being controlled, however.
Impossibly Cool Weapon: Klarrann bashes his enemies' skulls in with a giant cross!

In the sequel, Zazi dual-wields crossbows, Levv uses a detatchable sickle and claw gauntlet, Maggni uses shield-pilebunkers (the game refers to them as warhammers) and Sephia uses bladed sleeves!

Infinity -1 Sword: For Inphyy, she can obtain Klausorus, a Lv.1 sword that gives her +50% attack power, +50% attack range, and extends her Orb Attack duration by 30%, and she can either get this sword by a rare drop in the bonus mission or S ranking the second mission of her story. Getting it early turns it into a Disc-One Nuke as it outclasses most of her other swords in terms of sheer power and range.
Rare Random Drop: There's one item that you practically need to beat the Final Boss, but you can only get it off of enemies in that level, which are finite and don't drop the item easily, enough to even make you restart the mission various times.
RPG Elements: Your character can collect more powerful weapons, items, and accessories which can also provide useful stat-boosting abilities. Your characters can also gain XP during battle and gain levels up to a maximum of 9.
Squishy Wizard: Tyurru. Good at crowd control at a distance, but doesn't do so well in close combat and has the weakest starting HP of 900 at Lv.1.
---