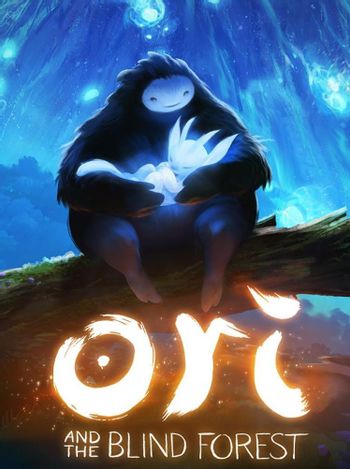 On that fateful night
When I lit the skies ablaze
I called out to Ori
—The Spirit Tree
Amidst a violent storm, a young forest spirit named Ori is torn free from the mystical tree that fathered them. The turbulent winds blow them deep into the dark forest, where they are discovered by the motherly Naru. Life for the spirit and their new family is good... until one night, when the tree finally calls out for its lost child, inadvertently setting in motion a terrible chain of events that threatens to destroy the forest and all of the life it contains.
So begins Ori and the Blind Forest, Moon Studios' debut game, a 2015 Metroidvania for the Xbox One, PC, and Nintendo Switch. The player controls Ori, a small foxlike creature seemingly made out of light, who is later joined by Sein, an even smaller orb of light that can unlock doors and unleash powerful energy blasts. Together, they will brave murderous wildlife, dangerous environments and Kuro, a massive black bird that is hell-bent on their demise, all in order to save the forest from its extinction.
A Definitive Edition was released in 2016, which adds new areas, new abilities, and other improvements like selectable difficulty levels and easier backtracking.
In 2017, Moon Studios announced that they're developing a sequel called Ori and the Will of the Wisps. The teaser trailer was released in June 2017, and the game was released on March 11, 2020.
---
Tropes appearing in Ori and the Blind Forest:
---