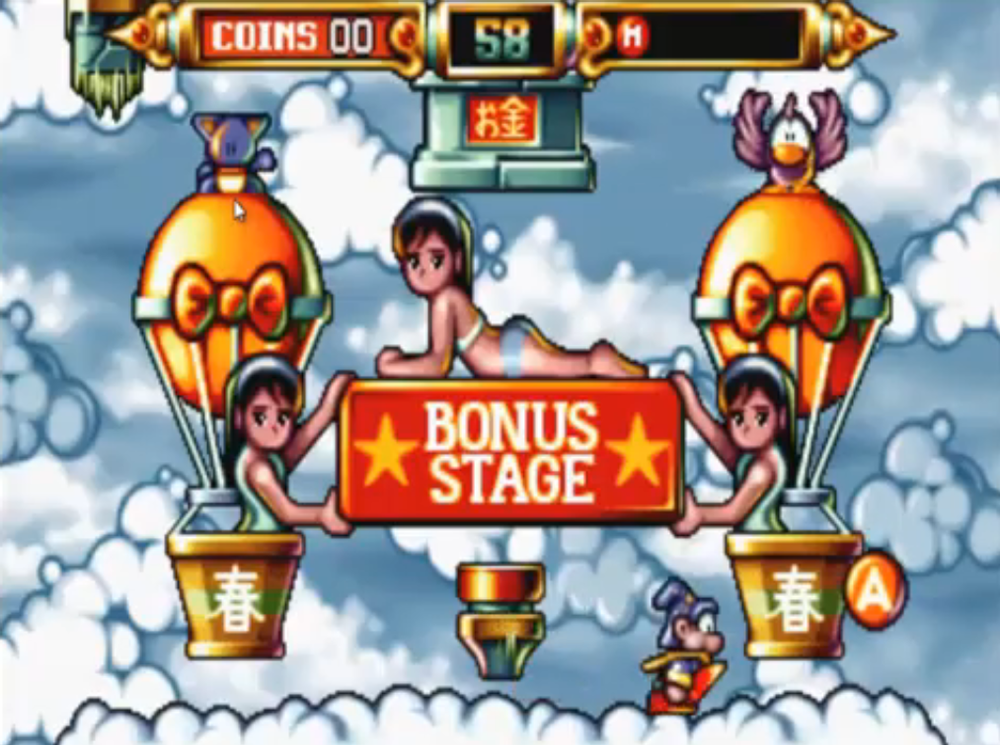 "It's time you all learned that Heaven can be a Hell of a place!"
A level or dungeon where the characters get to slaughter their way through Heaven or a similarly holy place, and possibly culminating in punching out God or at least some bad angels. Most of the time, this is an optional or secret area (thus justifying the name), but there are many examples that are plot-relevant.
Not to be confused with Fluffy Cloud Heaven, which only sometimes overlaps with this (when combined with Level in the Clouds). If The Legions of Hell are running wild here, it's Hell Invades Heaven.
If you were looking for a figurative Bonus Level of Hell to describe ridiculously difficult extra levels, see Brutal Bonus Level.
Compare and contrast Planet Heck.
---
Examples
open/close all folders
Action Games
Bomberman 64 had the secret final level called Rainbow Palace that fits the Fluffy Cloud Heaven motif, and had relaxing music that severely clashed with how unforgiving some of the puzzles were. Unlike most examples, the level is actually plot-relevant, as it is ruled by the True Final Boss and real Big Bad, Sirius.
In Bayonetta, beating the 21 Alfheim challenges (which are located in heaven) rewards you with… a massive Alfheim challenge where you have to go through 50 waves of enemies, many of them really brutal, with a progressively increasing difficulty setting (from Normal at the beginning to Harder Than Hard at the end) and one Superboss. The soft and dreamy music that plays between the waves does little to reassure the player. And you can't use healing items. Good luck.
Copy Kitty has the Hard Mode version of World 13 which was previously that of the hellish type. On Hard, it's filled with bright lights, cheerful music, fluffy clouds, and lots of greenery. Do not confuse this for the game going easy on you, enemies can tank a lot of damage before they go down, saving lots of weapon ammo is all but required to deal with the tons of targets onscreen, and the angelic Throne Gehligrukai are practically minibosses in their own right. To really hammer it home, there's a laundry list of challenges and conditions that must be completed before the game even lets you attempt it, not least of which is beating the Normal version of said world and its accompanying Superboss. This culminates in the Superboss Aekros, one of the most spectacular boss battles in the game.
Fighting Games
Platform Games
In Gimmick! (1992), the game normally concludes after level 6 with a bad ending, where protagonist Yumetarō fails to rescue his kidnapped owner. Collecting the bonus item hidden in each stage unlocks a secret final level, which takes place in a heavenly castle built upon a small Floating Continent. It's a very serene Breather Level, with peaceful music and cute enemies who don't attack you, as well as plenty of health pickups. This leads to the difficult True Final Boss and the game's good ending, where Yumetarō reunites with his owner and they escape together.
In the arcade version of The NewZealand Story, when you lose your last life in the later stages of the game, Tiki will reappear in the stage Heaven. There are different layout Heavens based on when you died, but they're all rather difficult stages. If you make your way all to the right, you meet up with the Goddess and pass on to the afterlife in a sort of The Many Deaths of You fashion epilogue.

"Tiki has met the Goddess and now went into a long sleep in the warm sunlight. But the Heavens had got an exit to the underworld."

The Simpsons Game had the family traveling to Heaven to talk to God about why everyone and everything wants to destroy Springfield, beating up Shakespeare and Benjamin Franklin along the way. They then play a DDR-style game where you coordinate heavenly versions of baddies from previous levels to the beat of "Rock You Like A Hurricane". Also, God is a giant video game nerd who spends all his time playing the super-immersive Planet Earth videogame.
The underrated CD-i title The Apprentice sort of plays it straight in the form of a dream taking place in Fluffy Cloud Heaven, which you get to play every time you clear a tower and defeat its respective boss. It's a time attack stage where you must race your way to the very top of heaven by jumping on springs, all the while collecting all the letters that spell "MAGIC" to receive a buttload of extra bonus points.
Super Paper Mario manages to combine this with Planet Heck in Chapter 7. You start in the "Underwhere" (a very Greco-Roman Underworld) and climb up to the "Overthere" (a very Judeo-Christian Heaven) throughout the course of the chapter.
In Donkey Kong Country Returns collecting all the medallion pieces, and then completing all world's secret temple levels unlocks the very definitely bonus temple on the world map. ... Which is Nintendo Hard with Checkpoint Starvation with brand new Unique Enemies which you won't find anywhere else in the game.
In Super Monkey Ball: Banana Blitz, there's Ultra Heaven, opened up by beating every world before itnote without using a single continue. Good luck with that.
HarmoKnight has Sky Roost, unlocked by finishing the main game with all medals in tow. Naturally, all the levels within are brain-breakingly frustrating.
Giana Sisters DS: Collecting all of the red gems within a world's levels unlocks a special bonus level that takes place in a fluffy cloudy heaven. There are usually a lot of gems to collect here, and as a result, lots of lives.
Pearly Gates is the fourth world you explore in Hell Pie, populated by righteous souls, rather ugly angels and an ornery God.
Racing Games
The final track in Jet Moto 2 sends its racers on a ride through Heaven and Hell.
MMORPG
Roguelike
Role Playing Games
Sports Games
Tony Hawk's Pro Skater 2 actually features a level called Skate Heaven, which is a gigantic level with only one real hazard, and even begins with a booming voice proclaiming "Skate on, my son."
Tabletop Games
There's a fan-made Heaven sourcebook for the tabletop RPG KULT. Given that God is missing and His replacement is evil, this makes sense.
In the Time of Judgment sourcebook for the Old World of Darkness that detailed the Apocalypse How of the End of the World as We Know It for each game line, none of the Demon: The Fallen endings specifically included the angels of heaven returning to Earth to redeem or destroy the demons, but it literally had bonus rules for making and running angels as allies or (more likely) antagonists for player characters if a Storyteller wished to do so.
Depending on how the campaign goes (and whose side they're on), it is perfectly reasonable for high-Essence characters in Exalted to slaughter their way through Yu-Shan, culminating in an epic battle with the Unconquered Sun himself.
Turn Based Strategy
Disgaea: Hour of Darkness. Makes sense, considering the main characters are mostly demons. Notably, it's not actually a bonus level, but rather the finale. Earth, on the other hand, does show up as a bonus level.
You can have a Bonus ending of heaven in Yggdra Union, as the whole killing God is implied when Yggdra kills Marietta.
---