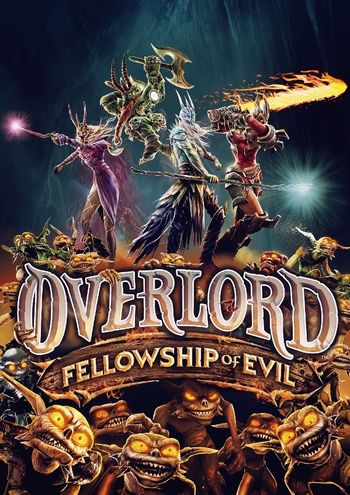 Overlord: Fellowship of Evil
is a multiplayer dungeon crawler
Action RPG
spin-off of the
Overlord
series made by
Codemasters
and released on October 20, 2015.
After the fall of the last Overlord, the world has begun healing from the carnage and ruin caused by his reign, much to the concern of Gnarl and the Minions. Seeking a new Overlord, they decide to revive four dark champions as Netherghúls and put them through the Trials of Evil as they rampage through the lands and stop The Golden from cleansing the lands:
Inferna: Brutal Ruborian warrior who fell to rock trolls and the most straightforward melee fighter.
Malady: A necromancer who sacrificed her life for a final curse. A ranged attacker with focused attacks.
Cryos: A Nordbergian Dark Elf Prince who was killed by Hakon in a Mutual Kill. A ranged attacker who specializes in crowd control.
Hakon: A Dwarf who lead the bandit gang "The Utter Bastards" who met his fate at the spear of Cryos. A melee crowd-control specialist.
The game takes a Genre Shift towards co-op multiplayer RPG gameplay, though Minion control returns in a limited fashion.
---
The game features examples of:
---