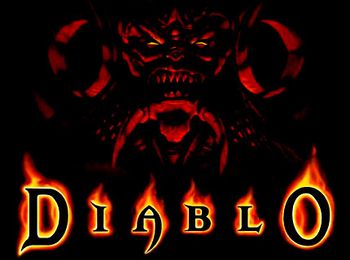 "Stay a while and listen."
— Deckard Cain
Diablo is an isometric Action RPG Hack and Slash game series from Blizzard Entertainment.
The first entry in the series was released in January 1997 and is still considered to this day one of the most important titles featuring action in third-person, advanced graphics, engaging gameplay and a fittingly ominous soundtrack to top it all. Notorious for having an elaborate backstory which nobody follows concerning a war between Heaven and Hell, Diablo is a huge dungeon crawl consisting of 16 floors of increasing difficulty under the old cathedral of Tristram, the only town in the game, where NPCs provide you with quests, healing, or equipment. The player has three characters to choose from: Warrior, Rogue, or Sorcerer. The goal is to reach the Final Boss, Diablo, at the very bottom of the dungeon and kill him.
As a sort of simple graphical roguelike, the pursuit of the perfect randomly-generated equipment and character build is the main draw.
The non-canonical third-party expansion pack Hellfire added eight new levels and four new quests: namely, a quest to kill another Diablo-esque baddie in the crypt near the church, a quest from Lester the farmer, a cow quest, and a quest to retrieve a teddy bear. Three more characters were also added: Monk, Bard and Barbarian. But you have to edit a text file to unlock two of those quests and characters.
The original game spawned a heap of Sequels and Expanded Universe including:
Other Games
An adaptation of Diablo II for Dungeons & Dragons in 2000; both a boxed set and three sourcebooks (one for Advanced AD&D, the other two for 3rd edition) were produced.
Meanwhile, the developers of the first two Diablo games, Blizzard North, resigned en masse and formed "Flagship Studios", which continued to produce Hack and Slash games, specifically Hellgate: London and Mythos. After Flagship folded, the same people formed "Runic Games", which produced Torchlight. All three titles can be considered Spiritual Successors to Diablo; they certainly all play similarly.
See also Baldur's Gate: Dark Alliance and its spiritual successor Champions of Norrath. A character sheet and a synopsis page are in the works.
The original Diablo, after being out of circulation for years, was re-released on GOG in 2019.
---
Tropes found in the entire series:
Tropes found in Diablo I:
open/close all folders
A — F
G — L
M — R
S — Z
Sanity Slippage: Implied to be part of why your character jams Diablo's Soulstone into themselves at the end, alongside some Demonic Possession; the sheer and literal hell they travel through gradually quiets your protagonist down, and Diablo II insinuates that the Rogue and Sorcerer especially were haunted by their travels. The Warrior? He becomes the canonical Soulstone bearer, and inevitably the next host of Diablo once he gets worn down even further.
Save Scumming: You could save scum the normal way.

Saving and reloading causes Adria and Griswold to re-stock their inventories. This means you can throw down a save in front of either of them and reload until they have the equipment you want to buy.
Goat Shrines' and Cauldrons' effects are picked randomly from the list of all shrines and set, making it wise to save beforehand in case they may have the bonus you want— or don't want.

Saving the World: What you are supposed to do.
Scenery Gorn: The Butcher's room in Diablo, red with blood and full of human bodies mutilated, impaled and/or hung up on hooks.
Secret Character: Hellfire came with two secret, "unlockable" characters: the Bard and Barbarian. The Barbarian has since reappeared in the sequels.
Self-Imposed Challenge: Naked runs (that is, runs with no equipment) are popular for classes that can handle them. The first game, however, takes it one step beyond with the Beyond Naked Mage, which uses any and all cursed gear it finds, and only cursed gear. (When there's a choice of gear for the same slot, one must use the item with the greater penalties). In addition to providing an extra level of challenge, this also provided a type of Ironic Hell for Griefers who lured players into being killed by monsters in order to steal their equipment. Have fun with some life-decreasing jewelry, jackass!
Shoot the Shaggy Dog Story: The second game reveals that not only do all of the goals and accomplishments of the first game become pointless, it also turns out that every player character becomes corrupted and begins tormenting humanity as demonic beings themselves. The protagonist (canonically the Warrior) finally defeats the Big Bad, only for it to be revealed that he was being played all along, and is corrupted by its Soulstone, eventually being transformed into the new Diablo himself. Also, the Rogue becomes Blood Raven, the Sorcerer becomes The Summoner, and Tristram is destroyed, along with nearly everyone in it being slaughtered or turned into even more demonic pawns.
Shield Bash: It deals same damage as a punch or kick, but it gives you the chance to block enemy melee strikes.
Sidetrack Bonus: Because of its randomised dungeons, moving forward in the series is largely a matter of luck, with the player as likely to find an empty dead end as anything else, but exploring a whole area before going on will naturally yield some treasure and some unique monsters.
Sinister Minister: The Archbishop Lazarus.
Skyward Scream: The first game's ending, after the hero plunges the Soulstone into his forehead.
Sliding Scale of Shiny Versus Gritty: The games are gritty in the extreme, depicting a world invaded by demons who decorate with blood, limbs, impaled corpses and tortured souls.
The Smurfette Principle: Only one of the three classes (the Rogue) was female. Diablo was either more or less balanced with the inclusion of the Hellfire expansion depending on how you approach it. It added the male monk class by default, plus mildly altered remakes of the Warrior and Rogue that could only be unlocked by futzing with a system file.
Sorting Algorithm of Weapon Effectiveness: The item spread is carefully controlled by which area of the game you're in; the starting levels will give you nothing but light armor, weak weapons of all kinds, and marginally magical items. As you continue through the game, the range of droppable items increases, so that Dagger of Poking you picked up in the cathedral will eventually be replaced by the Pointy Short Sword of Sharpness in the catacombs, the Serrated Flamberge of Wounding in the Caves, and the Butt-kicking BFS of Evisceration in hell.
Soundtrack Dissonance: The Cain Rap.
Spell Book: One of the less abstract uses of the spell book trope in video games. A spell book, when read, simply adds that spell to your repertoire so that you can use it as much as you want in future (as long as you have enough mana). If you find another book of the same spell at a higher level, reading it will let you cast a more advanced version of the same spell.
Stop Poking Me!: Clicking the town's cow would cause it to moo. Clicking it repeatedly would make your character start commenting on it. "Yup, that's a cow all right..."
Story Breadcrumbs: The first game had a setup like this. Books placed on pedestals throughout the catacombs under Tristram would tell you the story how Diablo came to be buried under Tristram, along with other events that precede the game. That said, the game's manual contained all the same story elements in more detail.
Story-Driven Invulnerability: When you finally meet the Archbishop, he stands there and speechifies at you for a good while. Neither side can attack while he's talking, but you can run out of the room, which is recommended as he's accompanied by a number of minions and it's easier to kill him if you've lured them out piecemeal first.
Story to Gameplay Ratio: The series is a little odd in this regard. There's lots of story in terms of dialog from NPCs and other characters, but all of it can be (and often is by most players) ignored by those who just want to jump into the quests. The universe has a really good storyline but it is safe to say that the game's immense popularity is not because of its story. The game would likely still be as popular as it is even if it had virtually no story
Subliminal Seduction: The game contains the satanic message (at least in the game files): Eat your vegetables, and brush after every meal. (backwards, of course)
Succubi and Incubi: Diablo has an army of succubi. Albeit, they're not particularly sexual creatures, rather color-coded, fireball-flinging, batwinged, naked women.
Suicidal Cosmic Temper Tantrum: According to the manual, the minions of Baal, the Lord of Destruction, seek the undoing of the universe.
Sword of Plot Advancement: Lazarus's Staff. It's not a weapon you can equip, but you need to give the staff to Cain so the portal to Lazarus' lair opens afterwards.
Tactical Door Use: Closing doors will stop certain demons in their tracks. Combine this with a grate nearby that allows you to shoot through to the other side of the door, and soon you've got a pile of dead demons lying on the other side of said door.
Take Your Time: You can dillydally as much as you want in completing the quests you're given.
Teaser Equipment: The enterprising young boy Wirt randomly sells a high-level item, but you're unlikely to be able to purchase it until later. Even though that item is generated at random, it's generally of a higher level than what the normal item shops are selling, though not always relevant to your class. By the time you'll generally be able to purchase it, the gear in other shops has largely caught up.
Teleport Spam: Those wacky teleporting mages.
This Was His True Form: When you slay Diablo and pull the soulstone from his forehead, his body reverts to that of Prince Albrecht, whom Diablo had possessed. (It is unclear whether Albrecht is alive or dead at this point.)
Thong of Shielding: A curious case are the succubi, because they seem to wear only a "low-cut" thong when you look at them from the front, but are clearly butt-naked when you look at them when they turn around.
Timed Power-Up: Every game since Diablo I features Shrines, stationary objects with random effects that commonly include temporary buffs to speed, defense, offense, experience gain, etc.
Truce Trickery: Following the end of the Sin War, there was a pact made between the High Heavens and the Burning Hells that they would not interfere in the affairs of Sanctuary. To absolutely no one's surprise, the demons break the pact by means of the Dark Exile of Diablo, Mephisto and Baal to the mortal realm, resulting in all Hell breaking loose in Sanctuary. Tyrael is limited in what he can do as an angel because if word of what's up reaches the rest of the angels, they may well decide to destroy humanity along with the demons because of the origin of humans in this universe, which many angels do not take kindly to.
Turn Undead: There are three types of enemy: animal, undead, and demon. For each of the first latter two, there are certain types of weapons (clubs for undead, swords for animals) that do extra damage against that type (although they will also do less damage against the other type, this was dropped in later games), and some uniques items have specific attributes that only apply against one of the last two. There's also the Holy Bolt spell, which specifically harms only undead.
The Turret Master: The Guardian spell summons a three-headed beast that would shoot firebolts.
Twinking: Thanks to rampant item duping glitches, hacks, and exploits, in the game's heyday you couldn't wander into a public online game without being offered a full set of the most powerful non-Level-Locked Loot available.
Unbreakable Weapons: There's a durability exploit in which, through the use of Hidden Shrines, the player can raise the durability of an item to the specific value of 255, which the game recognizes as indestructible.
Underground Monkey: The games were full of this. Every single enemy in the games, apart from quest specific bosses, came in various levels of strength denoted by colour and had otherwise identical sprites as others of its type. It's mentioned in the first game manual that this is because the Prime Evils, the leaders of the demons, would alter their servants forms to better deal with whatever threat they were facing at the time.
Unidentified Items: You can take your unknown items into town and have Cain identify them, or buy a scroll to do it (for the same price of 100 gold).
Unintentionally Unwinnable:

Diablo disables the "SAVE" option when you die. However, it does so a few frames late, and during these few frames it's difficult, but possible to save already dead and watch your character die instantly each time you reload. There's only one save slot. While you can start the game over with your character's current stats (much like a New Game Plus, except accessible from the very beginning), you'll lose anything you had left lying around in town (which is likely to be a lot, due to Grid Inventory and Nothing Fades). But hey, it's your own damn fault for saving when you knew you were dead.
You can just plain save while surrounded by monsters and one hit from death. This is obviously user error. Another variant is to save immediately before getting dealt a final blow such as by a projectile, which is more of an accident.
This can screw up first-time Diablo players who come from Diablo II. There, you CAN save and exit when you die and get away with it. In that game, you will be brought back to town carrying whatever was in your inventory when you died. Anything on the ground or that you dropped(potions, usually), were gone... If you're used to that, the change in save-after-death in the original can burn.
Multiplayer characters can screw up in a different way: there is no regular save function and dying in multiplayer mode causes your items to fall to the ground. If you die in a place where you can't get them back (there is one notable enemy type that ignores the safe radius around level entrances and is also invisible, so you can die very quickly after entering a level, only to see a mass of hidden ones manifest around the stairs) and have no choice but to leave the game, you lost all of your items permanently. Good luck completing the game after that.
Diablo has strong roguelike influences and can screw you over in numerous other ways. Black Death in particular take away 1 hit point permanently on striking (with no indication that this is the case) and can render the game unwinnable if you are playing very badly and get hit hundreds of times, leaving you with a tiny amount of health. You have to try really hard to make this happen, though.
It's possible to make the game unwinnable by abusing the Chamber of Bone entrance in a hilariously stupid way. You need to teleport there before you use the book to open it (either with a scroll of teleport or using a scroll of town portal then going there from town) and leave yourself stuck in a sealed room. Yes, you need to be completely stupid to do this unless you're doing it intentionally for the lulz.

Unusual Halo: Imperius, the leader of the Council of Angels, has a crown-like metal halo that matches the design of his 24-Hour Armor. The other angels generally don't have halos.
The Usual Adversaries: The series, as one can probably guess, primarily has the demons of the Burning Hells in this role, though undead are also a big threat early on.
The Very Definitely Final Dungeon: The final battle with Diablo takes place on the lowest level of Tristram Cathedral.
Videogame Flamethrowers Suck: Inferno was a very slow moving flame that crept along the ground, had a very short range, almost always missed if cast at an angle due to the game being grid-based and its only benefit was that it could hit multiple targets if they were right in your grill. You would probably get a book of this spell at about the point where the first Lightning Bolt staves started to show up, which had the same line damage effect, unlimited range, a much wider area of effect and did about five times as much damage.
Villain-Based Franchise: The game's title is the name of the main antagonist. Do we really need to say more?
Villainous Breakdown: In the backstory, King Leoric is possessed by Diablo and effectively starts having a Villainous Breakdown while he's still a good guy. He doesn't remain good for long when that happens. He starts getting increasingly paranoid and less sane, until finally when Diablo leaves him, unable to take over completely, he's a raving madman. When Lazarus takes his son as a more fitting vessel for Diablo, it goes even more downhill from there — he randomly tortures and kills villagers he suspects of abducting the prince and finally has to be killed by his own most loyal knights.
Voice of the Legion: Many characters, but especially Archbishop Lazarus.

In the expansion, Baal himself has the voice that echoes and can shake mountains. He roars out a massive "ENOUGH!!!" in the Intro.

Voodoo Zombie: The various undead are often of this kind, with powerful undead such as the Skeleton King being a result of Diablo's direct influence.
Wake-Up Call Boss: The Butcher, who is an extremely tough opponent for the part of the game he appears in, being very fast and capable of dealing huge amounts of damage in close combat. He quickly becomes That One Boss to lower level characters because the only way to beat him safely depends on the randomly-generated terrain spawning in such a fashion to let you plink him to death at range, or to level up your Dexterity to at least 55 so that you can trade blows with him in melee while taking fewer hits. Thankfully, he only has a 50% chance of appearing, drops a nifty unique axe when he finally goes down and you can just ignore him if you don't want to fight him yet — his room is a dead-end and its unique shape and decor make it obvious who resides there.
Walking Shirtless Scene: The Warrior sans armor.
Wallet of Holding: You can have up to 5000 gold per available inventory slot, which led to a glitch where you can't buy the best armor in the game because you can't hold enough money. An item added in the Hellfire expansion doubled your gold capacity to 10,000 per slot.
Warp Whistle: The Town Portal scroll, though as the name implied, the scrolls primarily sent you back to town (which you would need to do often in order to sell off your old or excess gear, repair the gear you were using, and resupply on essentials such as potions, ammunition and Scrolls of Identify or Town Portal.
Was Once a Man: Humans possessed and altered to fit their shape by the Prime Evils, through Demonic Possession. Diablo's body turns back into that of the young prince at the end of the game when he's killed.
Water Source Tampering: One of the potential side quests involves Tristram's water supply being poisoned. When you go into the catacombs and find the spring, killing the monsters around it will turn it back to normal.
Weapon of X-Slaying: Diablo gives clubs this effect against undead monsters, and swords receive the same effect for animals. Notably, in this game clubs will also deal less damage to animals and swords will deal less damage to undead as well (later games drop this penalization, as well as the sword bonus against animals).
We Buy Anything: Averted; only related items can be sold to the relevant shopkeeper — weapons and armor to Griswold, and mage items and potions to Adria.
With This Herring: Played with. In both games, you don't start out with much, but your initial equipment isn't terrible. It'll do for a bit until you can get better stuff. Justified in both games because A) you're not really all that special of an adventurer and B) the areas you're in are typically going through hard times.
Words Can Break My Bones: The scrolls in the series work this way, with the written words becoming the spell as they're spoken (and consequently, disappearing). The magic books from the first installment may be similar, as they too disappear when used.
Wound That Will Not Heal: The Butcher's cleaver has Gameplay and Story Segregation — while it is said that the wounds inflicted by it can't be healed because of infection, you can heal them as much as you like.
Yet Another Stupid Death: Killed by standing in fire.
Yin-Yang Bomb: The entire human race is the result of interbreeding between angels and demons.
You All Look Familiar: Averted, but only for NPCs. PCs of the same class all look quite similar.
You Are Too Late: Archibishop Lazarus pulls this when you finally confront him:

Abandon your foolish quest. All that awaits you is the wrath of my Master!

You Are Too Late

to save the child. Now you will join him...in Hell!

You Can't Thwart Stage One: Or Stage 2: both games end badly for team Human.
You Have Researched Breathing:

Everything including rings and necklaces have stat and level requirements to wear them. You could wear Unidentified items, but bear the risk of it being cursed.

"Alas, poor adventurer — he accidentally put on the Necklace of Self-Decapitation."

Your Sorcerer starts out with a level two Firebolt and is incapable of casting Holy Bolt, which according to the lore was explicitly created to be easy to cast for anyone with no particular magical talent. It gets worse in the sequel, where the sorceress and necromancer start the game with zero magical or necromantic abilities whatsoever and rely on their staff or wand to cast anything at all.

You Kill It, You Bought It: This happened to the hero; after killing Diablo and removing the soulstone from its forehead and freeing his former host, the hero rams the thing into his own forehead, becoming Diablo and taking his place.
You No Take Candle: "We strong! We kill all with big magic!" Poor little Snotspill had obtained a tavern sign depicting a sun and naturally expected it to be magical.
Zip Mode: In Hellfire, your walk speed was doubled in town.
---