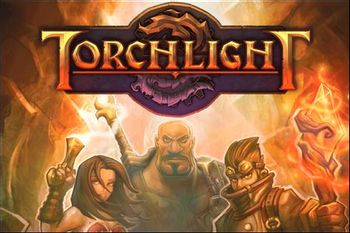 "There is power beyond imagining, but the price is so very high..."
— The Alchemist
Torchlight (2009) is an Action RPG developed and published by Runic Games (composed of staff of the defunct Flagship Studios, who created Hellgate: London, themselves having worked at Blizzard North, who created Diablo), with help from the guy who created Fate. As such, gameplay is a mishmash of all those franchises: you move and select targets for Hack and Slash treatment with a mouse while the keyboard simply serves as shortcuts to various menus and abilities. You have a pet; there's a separate level tree for "Fame"; there's artifact equipment and sockets galore; you can retire your character and come back again as an offspring of said; and there's a bonus dungeon, with (theoretically) infinite randomly-generated levels, for you to mess around in if you'd rather keep playing after you handle the Final Boss.
You can play as one of three different characters as they explore Torchlight, a mining town built near an "Ember" mine plagued by monsters. The playable character classes are:
The Destroyer: A heroic fighter who came from his home in the wilderness to Torchlight, after hearing tales of it being plagued by evil. A pure melee fighter.
The Vanquisher: A female city guard who was sent to Torchlight to investigate. Mainly uses ranged weapons and traps.
The Alchemist: A spellcaster who uses Ember to gain power. He was lured to Torchlight by the promise of power and risks being overcome by it. Uses spells and summoned minions.
Torchlight was the launch title for the Mac OS version of Steam, which may be part of why it's managed to sell over a million copies—a lot more than Runic expected. (It's also been pirated more than 5 million times in China, with Runic shrugging their shoulders and figuring there's No Such Thing as Bad Publicity.) A direct sequel, Torchlight II, was released, and a Massively Multiplayer Online Role-Playing Game was planned, but abandoned after Runic realized how complicated it would be to create. Their next project was more of a Zelda-style action puzzler, Hob, which was was their last before their owners, Perfect World, closed the studio.
In a surprise announcement on August 9th, 2018, it was revealed that in 2016 Runic Games founder Max Schaefer had founded a new studio, Echtra Games, during the development of Hob. It was also announced that this studio was opened with the intention of reviving the Torchlight MMO idea with Torchlight Frontiers, a new MMO entry in the series with much of the original staff on board set to release in 2019. Later however, the MMO aspect of Torchlight Frontiers was retooled into the traditional Torchlight experience now under the name
Torchlight III.
---
This game provides examples of:
---