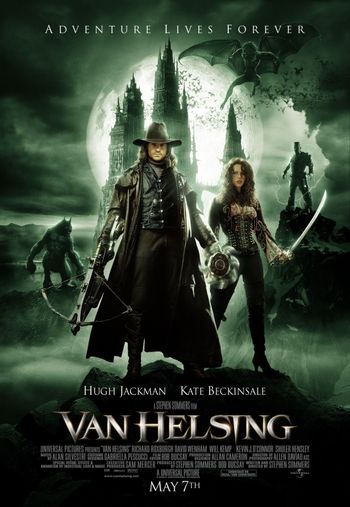 Van Helsing is a 2004 action movie released by Universal Pictures and directed by Stephen Sommers, who did the first two films of The Mummy Trilogy. It stars Hugh Jackman as the eponymous Vampire Hunter, loosely based on the character from Bram Stoker's Dracula. In this incarnation, he works as an agent of the Knights of the Holy Order in the Vatican to hunt down monsters and other abominations. Aiding him is Friar Carl, a slightly irreverent tinkerer and inventor that supplies him with the speciality equipment and comic relief he needs to take down the creatures of the night.
Yeah. It's just that kind of movie.
Van Helsing and Friar Carl are sent to Transylvania to help the last of the Valerious family, Anna and her brother Velkan, destroy Dracula — because if they don't, several generations of the family will never get to heaven, because God is apparently a big believer in holding kids to their great-great-great-great-grandparents' oaths. Who knows; maybe He is?
Once there, Van Helsing finds himself facing down Dracula and his brides, savage werewolves, and even Frankenstein's creation in the course of his mission — and discovering a few secrets about his own past, with plenty of Universal Horror/Hammer Horror Shout-Outs along the way.
There's also a short animated film, Van Helsing: The London Assignment, which is a prequel to this film.
---
Van Helsing provides examples of the following tropes:
---