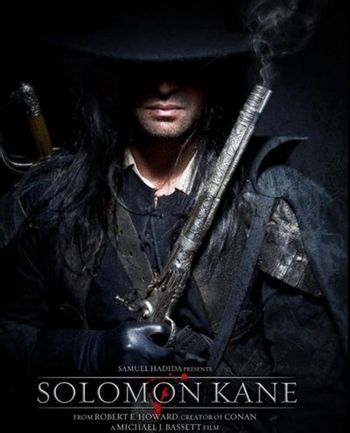 "If I kill you, I am bound for hell. It is a price I shall gladly pay."
— Solomon Kane
Released early 2010, Solomon Kane is based loosely on Robert E. Howard's character of the same name. The film begins with Solomon Kane, an English mercenary, sacking a Spanish-occupied fortress in 17th-century North Africa. After easily dispatching any guards unfortunate enough to stand in his way, Solomon's men are set upon by demons and only Kane himself reaches the throne room. The treasures within is vast, but much to his horror, Solomon finds he is not alone.
Confronted by none other than the Devil's Reaper, he is informed his soul is damned to hell and Satan has come to collect. Kane narrowly escapes, vowing to renounce his violent and sinful ways forever. Thus begins Kane's path to redeeming his wicked deeds and the lesson that "redemption is not always found through peace".
Inevitably, his quest to avoid confrontation is hampered at every turn, and sure enough, this reformed-sinner-turned-Puritan must now put his violent skills to good use once again. Otherwise, the audience might actually be forced to watch a man live out a peaceful life in a monastery. And no-one wants that in an action movie.
The film itself is unashamedly over-the-top with some gritty realism thrown in-between the demons and witches being slain. Its dark atmosphere and James Purefoy's lead performance has gotten a decent amount of praise, while on the other hand, the straight forward plot and out-of-place finale have been seen as a weakness.
Well worth taking a look at the original inspiration, Solomon Kane, along with his creator, author Robert E. Howard.
---
Solomon Kane provides examples of:
---