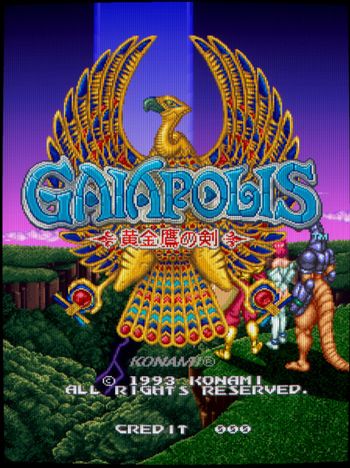 Gaiapolis: Sword of the Golden Hawk
(ガイアポリス 黄金鷹の剣) is a 1993
Konami
arcade game. It is a rare example of an overhead
Hack and Slash
title, and is also notable for its
RPG Elements
and
Sci-Fi
setting. It featured character designs by Shujiro Hamakawa (best known for the
TwinBee
series).
The Prince of the Kingdom of Avalon, Gerard Himerce, seeks out the fabled land of Gaiapolis after the invading Zar Harc Empire lays waste to his governed lands in preparation of the conquering of the known free world. He is joined in his quest by the half-human fairy martial artist Elaine Shee, and the dragon knight Galahad, the exiled duke from the land of the dragons. The party is directed in their quest by a mysterious ethereal Warrior of Flame, who tells Gerard to seek out the legendary Sword of the Golden Hawk.
The Zar Harc's leader, the King of Darkness, also holds a vested interest in finding Gaiapolis, wanting to claim its immeasurable power and further utilize it to call down an ancient demonic horror.
The arcade had an extremely rare and limited release among three regions, but its solid gameplay, excellent graphics and soundtrack, and story have made it a Cult Classic amongst those who have discovered it.
---
This game contains examples of:
---