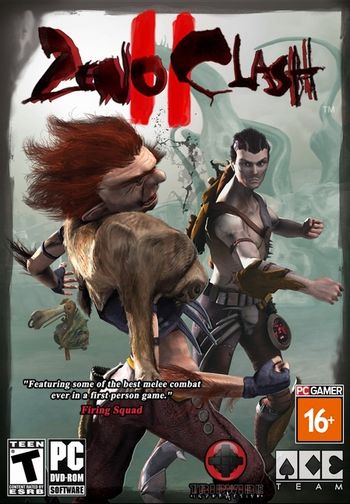 "You must have been told that this is what the
cutting of your umbillical cord involved. The soli-
tary place of man awaits you now. The unequal
struggle awaits you now. But you should not go to
the underworld with heart knotted in anger."
—-A poem written by a Golem on the Titan's barrier.
Zeno Clash 2 is the sequel to the 2009 indie first person brawler, Zeno Clash. It was released in 2013 on Steam, XBLA and PSN, and features more open levels, RPG Elements and Co-Op Multiplayer.
The story starts a month after the final showdown with Father-Mother. Golem has revealed Father-Mother's terrible secret, that Father-Mother is a male creature who kidnaps babies and replaces them with animals, and has assumed control of Father-Mother's family. Father-Mother himself has been locked away in Halstedom's first civil institution, a jail, but Ghat and Rimat suspect something is amiss, and plan to break Father-Mother out.
Unlike the first game, which focused on the trials and tribulations of the Zenos, this game expands on the mysterious Golems who guard the four corners of the Flat World that is Zenozoik and their plans for the Zenos within. As it turns out, the Golems have strife and emotional conflict of their own, and the Zenos were unlucky enough to get caught in the middle of it.
Also unlike the first game, it is far more open. While not a true Wide-Open Sandbox, players have far more freedom to do what they want and even have an over-world that can be explored for secrets and collectibles in between story segments.
On 7th of July 2021. a sequel titled Clash: Artifacts of Chaos was announced with a new protagonist named Pseudo taking the helm.
---
This game contains examples of the following tropes:
---