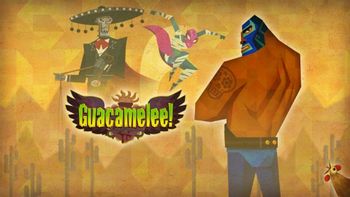 Guacamelee!
is a heavily-stylized
Metroidvania
Lucha Libre
Beat 'em Up
for the
PlayStation 3
, PC and
Play Station Vita
developed by Drinkbox Studios. The game draws its inspiration from traditional Mexican culture and folklore.
Guacamelee!
builds upon the classic open-world Metroidvania style of games, by adding a strong melee combat component, a
dimension switching mechanic
, and cooperative same-screen multiplayer for the entire story. The game also blurs the boundaries between combat and platforming by making many of the moves useful and necessary for both of these. The game was released on April 9, 2013 in North American territories, just
five days
after the release date was announced. The
Super Turbo Championship Edition
version was announced, and has been released for
Xbox One
,
Xbox 360
,
PlayStation 4
,
Wii U
,
Steam
and
Nintendo Switch
.
The story consists of agave farmer Juan Aguacate being invited to the Día de los Muertosnote That's "Day of the Dead" in Spanish in case you were wondering. festival to help out with the festivities and getting acquainted with an old childhood friend, El Presidente's daughternote named Lupita in the sequel. However, disaster strikes in the form of a lich named Carlos Calaca kidnapping her to use her as a virgin sacrifice for merging the World of the Living and the World of the Dead together to rule over them both. Despite his best attempts to stop him, Juan is swiftly slain by Calaca as El Presidente's daughter cries out his name...
Sometime later, Juan awakes in the World of the Dead, and after wandering about comes across a statue with a luchador mask on it. There, he meets a spirit named La Tostada who tells him that due to Calaca's meddling, the two worlds are in danger and that the mask appearing before him shows that he might be the one to stop him. Thus, Juan dons the mask and begins his journey to stop Calaca and rescue El Presidente's daughter.
Despite being an indie game, it was pushed fairly heavily on the Play Station Network due to being one of few games to fully support the Cross Play feature. Transferring saves from the Vita to/from the PS3 is relatively simple, and buying the game for one system also buys it for the other.
A sequel titled Guacamelee! 2 was released in 2018.
---
This juego provides examples of:
---