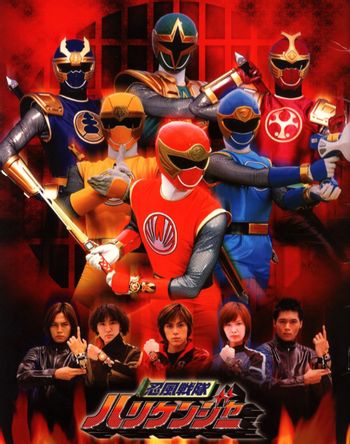 Ninpū Sentai Hurricaneger ("Ninja Wind Squadron Hurricaneger"note This was the first Sentai title to shorten the suffix "-ranger") is the twenty-sixth installment in the Super Sentai series, airing from 2002 to 2003.
Upon the graduation day of Hayate Way Ninja Academy, an alien ninja clan called the Jakanja descend on the school and kill the entire student body. The only survivors are the three worst students: Yousuke Shiina, Nanami Nono and Kouta Bitou, who happened to be elsewhere doing remedial training.
Out of desperation, the three students are given the school's greatest honor so they can fight against the Jakanja: the power to become Hurricaneger.
Partnered with the Kamen Rider series Kamen Rider Ryuki before concluding its airing alongside the first episodes of Kamen Rider 555 in what would later be known as the Super Hero Time block.
Adapted into Power Rangers Ninja Storm.
In 2013, in a first for any season in the franchise, a V-Cinema special titled "Ninpuu Sentai Hurricaneger 10 Years After" was released, set 10 years after the finale and reuniting the team against a new enemy - Hurricane Dark.
Another V-Cinema titled Ninpuu Sentai Hurricaneger de Gozaru Shushuuto 20th Anniversary, set 10 years after the first V-Cinema, was released to theaters in June 16, 2023 and to DVD and Blu-ray on October 25.
The series can be streamed for free at Shout! Factory TV
.
---
Recurring Super Sentai tropes:
---
Tropes specific to Ninpuu Sentai Hurricaneger:
---