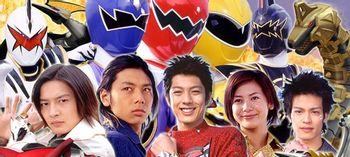 "The savage DinoGuts! Bakuryū Sentai Abaranger!!"
Bakuryū Sentai Abaranger ("Explosive Dragon"/"Blastosaur"/"Dynasaur" Squadron Abarangernote A portmanteau of Abare (Rampage) and "ranger".) is the twenty-seventh program in the Super Sentai franchise, airing from 2003 to 2004. The Title Theme Tune was sung by Masaaki Endoh.
In the backstory of Abaranger, the meteorite that killed all the dinosaurs in the distant past actually split Earth into two parallel worlds: "Another Earth", the world as we know it where the dinosaurs became extinct, and "Dino Earth", where dinosaurs lived on alongside humans and eventually evolved into "Bakuryu"note Coming from "Bakuretsu" (Explosion) and "Kyouryuu" (Dinosaur) and "Ryujin"note "Dragon people", coming from "Kyouryuu" (Dinosaur) and "Jin" (People) respectively.
All is well in Dino Earth until the awakening of the evil lifeform Evolien and their god, Dezumozorlya. Dino Earth soon falls to the Evolien, and a lone Ryujin warrior called Asuka flees through an interdimensional portal to Another Earth. There he seeks human allies with the ability to harness a powerful inner energy called "Dinoguts", and fight against the invading Evolien before they conquer Another Earth as well.
He soon finds three: Ryouga Hakua, a young father with boundless optimism; Yukito Sanjō, a cold and cynical chiropractor; and Ranru Itsuki, a keen tomboy mechanic. Together they gain the partnership and power of three Bakuryu, and fight against the Evolien as the Bakuryu Sentai Abaranger.
Asuka soon recovers from being Brought Down to Normal and joins as the fourth Abaranger, only to have his resolve tested as he is forced to fight Jeanne, a vicious Evolien general who shares the appearance of his lost love. Later on, a powerful Evil Counterpart appears in the form of Mikoto Nakadai, an amoral genius who uses a Super Prototype of the Abaranger technology to become "AbareKiller", a nemesis that challenges the Abaranger's belief in the basic goodness of humanity.
The theme of the series is, quite obvious from the title, dinosaurs, lots and lots of hotbloodedness, and explosions.note Just for starters: The word "AbaRanger" is from "Abare", meaning "riot/rampage/outbreak/run wild".
Also, did we mention that the dinosaurs can speak?
Partnered with the Kamen Rider series Kamen Rider 555 before concluding its airing alongside the first episodes of Kamen Rider Blade in the Super Hero Time block, marking the first such Sentai/Rider partnership to be accompanied by the name.
Check/help build the character sheet.
Adapted as Power Rangers Dino Thunder which gave a nod to the original show in one of their episodes.
---
---
Tropes specific to Bakuryuu Sentai Abaranger:
---