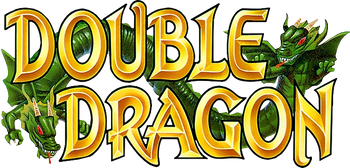 Double Dragon
is a series of side-scrolling
Beat 'em Ups
that helped popularize the genre back in the late
1980s
and early
1990s
.
The original 1987 arcade game, developed by the now-defunct Technos Japan Corp. and distributed by Taito, featured a rather simple and standard premise: twin martial artists Billy and Jimmy Lee must save their lady friend Marian from the clutches of the Black Warriors, a ruthless gang that controls the city.
While not the first of its kind, as Double Dragon was originally intended to be a sequel to their previous game Renegade, the game improved upon its predecessor's formula by allowing up to two players to play simultaneously and adding the ability to pick and use weapons against the enemies (both features would become standard in subsequent games in the genre). The 2-Players Mode also provides a twist in the end: if both players manage to make all the way to the end, then the two are forced to fight each other to the death, with the survivor getting to claim Marian for himself.
Double Dragon was followed by two arcade sequels and numerous home versions for various platforms. The three NES versions (along with the first two Game Boy games and the SNES-exclusive installment) were actually developed by Technos themselves, while most of the other versions were licensed out and developed by other companies. The series died out after Technos went out of business in 1996 (long after the beat-'em-up boom ended), despite attempts to adapt it into a Fighting Game format. The series was revived when Million Corp., a company founded by former Technos staff members, bought the rights. The rights was later bought, alongside other Technos properties by Arc System Works. While the series is nowhere near as prevalent as it was back in the day, it still gets an occasional new game once in a while.
In addition to the games, there was also an animated series and a live-action movie, as well as a comic where their dad was Stan Lee. Yes, that one.
Games include:<!—index—>
Double Dragon (1987, arcade)<!—/index—>

Ported to NES, Sega Master System, Windows, Amstrad CPC, ZX Spectrum, Commodore 64, Amiga, Atari ST, Atari 2600, Atari 7800, MSX, Game Boy, Sega Genesis, Atari Lynx, Mobile Phonesnote , Xbox 360, PlayStation 4, and Nintendo Switch.
Double Dragon Advance (2003 Game Boy Advance): First game developed by Million, a remake of the original with elements of later games.
Double Dragon (2009, Zeebo): Available only in Brazil and Mexico, loosely based on Advance.

Double Dragon II: The Revenge (1988, arcade)<!—/index—>

Ported to Amiga, Windows, Commodore 64, Amstrad CPC, ZX Spectrum, Atari ST, NESnote , Japanese Mega Drive, PC Engine Super CD-ROM2note , and PlayStation 4.
An unrelated Double Dragon II was released for the Game Boy in 1991. It is actually a localization of a Kunio-kun game.
There was also a handheld LCD Double Dragon based on The Revenge, though (being a '90s LCD handheld) it was extremely stripped down.
Double Dragon II: Wander of the Dragons (2013, Xbox 360): A 3D reimagining of the arcade original.

Double Dragon 3: The Rosetta Stone (1990, arcade)

Ported to NESnote , Commodore 64, Amiga, Amstrad CPC, ZX Spectrum, Atari ST, Windows, Game Boy, and Sega Genesis.note

Double Dragon (1992, Game Gear): An original game developed and produced by Virgin Interactive, also known as Double Dragon: The Revenge of Billy Lee in Europe.
Super Double Dragon (1992, SNES)
Battletoads & Double Dragon: The Ultimate Team (1993, NES): Crossover with Battletoads. Developed by Rare and published by Tradewest. Technos had very little involvement with this one.

Ported to Game Boy, Sega Genesis, and SNES.

Double Dragon V: The Shadow Falls (1994, SNES): A Tradewest-developed one-on-one fighting game based on the animated series. Once again, Technos had very little involvement with this one.
Double Dragon (1995, Neo Geo): A one-on-one fighting game based on the movie. Unlike Shadow Falls, Technos actually made this one and it was the last one they made before going out of business.
Double Dragon Neon (2012, PlayStation 3 / Xbox 360): An extremely Affectionate Parody of the series developed by WayForward.<!—/index—>
Double Dragon Trilogy (2013, Android / iOS): A Compilation Rerelease of the three arcade games by DotEmu.

Ported to OUYA and Windows.<!—index—>

Double Dragon IV (2017, PlayStation 4 / Windows): A Double Dragon game by Arc System Works that features a retro art style reminiscent of the NES versions. Set after Double Dragon II.<!—/index—>

Ported to Nintendo Switch and iOS.

Double Dragon Gaiden: Rise of the Dragons (2023, PlayStation 4 / PlayStation 5 / Nintendo Switch / Xbox One / Xbos Series X / Windows): A new alternative story in the series that focuses on the Lees who must drive several criminal gangs out of the city with the aid of Marian and franchise newcomer Uncle Matin.
See also Rage of the Dragons, a 2002 Fighting Game that, while not a part of the series, was originally meant to be.
---
This series provides examples of:
open/close all folders
A-L
M-Z
---