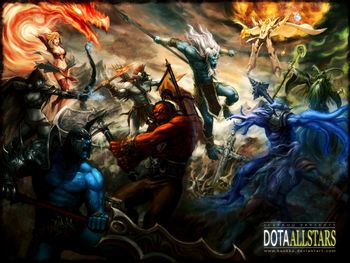 Defense of the Ancients: Allstars (abbreviated to DotA or just Dota) is a user map for Warcraft III: The Frozen Throne. Based on the earlier Defense of the Ancients user map for Warcraft III: Reign of Chaos which itself was based on the earlier Aeon of Strife user map for Starcraft, DotA's current popularity has given WC3: TFT a longer shelf life than intended (with DotA: Allstars, as it was previously called, acquiring sponsorship from Blizzard Entertainment itself as a Spotlight Map in the Battle.net Hall of Fame).
DotA is, in a nutshell, a team game where you choose a Hero Unit with unique abilities, kill creeps and heroes for gold and buy items with gold to make your hero even more powerful, and attempt to destroy a central building in the opposing team's base (the titular "Ancient" which you are defending), while they do the same to you.
Of course, once gameplay starts, it's rather more complicated than that. There are lots of heroes, each one with their own roster of abilities, strengths, weaknesses and applicable tactics. You don't get to control anything but your hero. No base, no resourcing, no research, nothing. So you'd better learn to make the most of him/her/it. There are lots of items, each one offering a different advantage and requiring a different combination of other items to create. The game is such Serious Business that players are basically expected to follow the most efficient methods, and people who won't play nice are encouraged to quit, since their teammates would rather play one short than with someone selfish or incompetent. As it's a team game, it is about strong interactive between players; a lone wolf is, if anything, more likely to help the opposition by providing them with lots of free kills and experience.
The mod popularized a new genre: dota-likes, also called "MOBA", Multiplayer Online Battle Arena, by League of Legends players and "ARTS" (Action Real Time Strategy) by Heroes of Newerth players. (Someone missed a bet by not calling them Dotaclones; but then, Riot Games invented the "MOBA" title largely to avoid having to refer to DotA.) For a free mod, it has spawned an awful lot of "legitimate" gaming attention: those two games and Gas Powered Game's Demigod were the first wave of imitators, with the second wave consisting of Heroes of the Storm by Blizzard Entertainment. Dota 2 is an official Video Game Remake, published by Valve Software and still developed by IceFrog, developer of DotA Allstars. Both of the game's versions were produced concurrently with each other and maintained a near-perfect parity until support for the Warcraft III custom map was dropped, so the game would no longer have to be bound to its engine's limitations.
It also has a song about it
.
Visit the DotA website HERE
.
---
This series contains examples of:
---