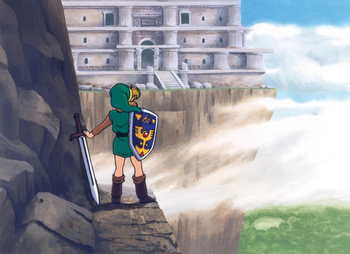 "The Hero's triumph on Cataclysm's Eve wins three Symbols of Virtue.
The Master Sword he will then retrieve, keeping the knights' line true."
The Legend of Zelda: A Link to the Past is the third game in the series, released for the SNES in Japan on November 2, 1991, in North America on April 13, 1992, and Europe in September 1992.
A prequel to the NES installments, A Link to the Past (Triforce of the Gods in Japanese) returned to the top-down adventure format of the first game. Unlike the previous games, which were almost purely focused on combat and exploration, A Link to the Past introduces a puzzle-solving element to the series, requiring players to use items in complex ways in order to make progress. The game also contains the first in-depth (yet still simple compared to later games) story in the series, giving the game more than just an Excuse Plot. These puzzle and story elements, along with the established constituents of combat and exploration, eventually became a part of the greater Zelda experience because of A Link to the Past, and this unique combination of elements would be solidified by later games.
The story begins with Link receiving a psychic message from Princess Zelda, telling him to come and save her from her imprisonment in Hyrule Castle. Link's Uncle also receives the call but dies, so Link must take up the call. He discovers that the evil wizard Agahnim is capturing girls from across Hyrule, and learns that the only way to defeat him is to obtain the three Pendants of Virtue from dungeons across Hyrule, and then collect the Master Sword. Of course, saving the world isn't that easy... Link is eventually forced to travel to the Dark World, a parallel version of Hyrule distorted by returning villain Ganon's wishes after he was sealed in the Golden Land (that story would later be told in Ocarina of Time), to save the captured maidens and the Princess, and finally defeat Ganon. The basic plot formula of A Link to the Past (gather three items, get Master Sword, huge plot twist, gather more items, fight the final boss), known to some fans as "The Legend," would be repeated many times throughout the series.
The game would receive a sequel in 1993 in the shape of Link's Awakening for the Game Boy. Link to the Past was re-released on December 2, 2002 for the Game Boy Advance, sharing a cartridge with the multiplayer-only Four Swords. A direct sequel for Nintendo 3DS, A Link Between Worlds, was released in 2013. It has the general look and feel of the original except with 3D graphics (though still top-down) and features the same version of Hyrule with completely new dungeons.
There is also a comic adaptation.
---
This game provides examples of:
---