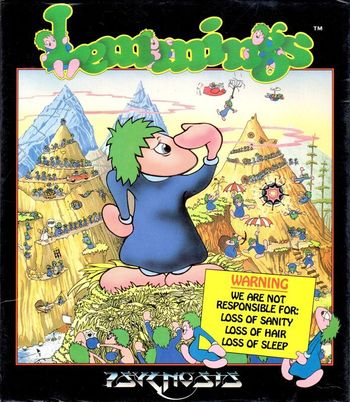 What long-time gamers will ultimately remember about the Lemmings games is their ingenuity. How many different ways are there to endanger the lives of a band of green-haired rodents willing to tromp blindly along whatever paths you lay for them? Thousands. In game after game, the developers, DMA Design (you probably know them better by their later name, Rockstar North... yes, that Rockstar North), proved they could come up with hundreds of variations on this simple theme.
It works like this. Each stage of the game is either a labyrinth or a Death Trap (and frequently both). A gate opens somewhere on the level and begins to release lemmings into the stage one by one, who mindlessly walk forward into whatever awaits them, whether it means falling down a Bottomless Pit, into water, fire or lava, or any number of actual traps. Enter you, the player, armed with a cursor and a set of very limited tools for altering the lemmings' behavior. Your task is to make the critters traverse each screen towards a specific exit without letting too many of them get splatted, drowned, scorched, sliced, beheaded, or otherwise killed in the process. The solution to a level could be devilishly hard to find, and until you did, you had to put up with the sight of your adorable little lemmings meeting their maker by the dozen. The bizarre combination of cutesy graphics, mind-bending puzzles, and grisly, relentless death of the pixelated creatures no doubt left many a seventh-grader scarred for life. It's basically a game all about Suicidal Lemmings.
For the first game, at least, there were eight tools available for the purposes of getting the hapless lemmings to the exit:
Climber — Lemmings with the climber skill will climb up any vertical wall in their path, rather than turning around. One of the two persistent skills that lasts the entire level.
Floater — These lemmings possess an umbrella which allows them to fall any distance without splatting. One of the two persistent skills that lasts the entire level.

Applying both of the above would lead to the character being called Athlete.

Bomber — After a five-second countdown, the bomber explodes, taking out nearby walls and obstacles. Naturally, the lemming doesn't survive the process. Called the Exploder in some ports and in Lemmings 2: The Tribes (where Bomber is a different skill entirely).
Blocker — The blocker stands in place, preventing other lemmings from passing by. However, once set, the blocker cannot be removed except by blowing him up or digging the floor out from under him.
Builder — The builder constructs a short diagonal stairway out of bricks, allowing him to cross gaps and get other lemmings to elevated positions.
Basher — The basher punches through walls, creating a horizontal tunnel through an obstacle until it hits air or a steel wall (or it's told to do something else).
Miner — Armed with a miner's pick, the miner digs a hole diagonally downward through solid dirt.
Digger — Similar to the above two, only the digger employs its claws to dig straight down.
Sure, the puzzles are simple — at first. In one stage, you might have to turn your lemmings into "Diggers" and burrow through the soft soil to the exit. In another, you might have to use the "Blocker" skill to keep the lemmings from walking off cliffs, or the "Builder" skill to allow them to climb one. But by the time you get to around level 20 or so, you'll be staring at the screen and saying "Now, wait a second. There's just no way to solve this one. They must have made a mistake!"
They didn't. Like few others, these games reward cleverness, persistence, and non-linear thinking and keep you coming back for more.
Originally developed for the Commodore Amiga, Lemmings is one of those games that has, like Tetris, been ported to virtually every console and platform in existence
. New games were inevitable, and include:
Xmas Lemmings, a series of Christmas-themed Mission Pack Sequels. The first two installments were brief four-level demos, followed by a full game (and then a year later, an expanded version of that game).
Oh No! More Lemmings, another Mission-Pack Sequel, except this time, all difficulty modes besides the lowest were Nintendo Hard. Lampshaded in the level titled AAAAAARRRRRRGGGGGGHHHHHH!!!!!!. Some ports of the original Lemmings contain this game as a bonus, and the most recent PC release (Lemmings for Windows 95—yeah, it's been a while) bundles both together.
Lemmings 2: The Tribes is the biggest and most true-feeling sequel to the original game, adding more skills to the lemmings' arsenal, a wide range of gimmicky themed locations and changing the formula of the gameplay — rather than saving a set amount of lemmings in each level, the player has the exact same batch of lemmings for every level in each tribe, and has to let all (or all but one for a couple of tribes) of them survive for every single level.
The Lemmings Chronicles removed some skills and adjusted the engine, adding some Platform Game elements.
3-D Lemmings moved the classic Lemmings gameplay into 3-D.
Lemmings Revolution returned to 2-D gameplay, but with 3-D graphics, as the levels were wrapped around a cylinder. Featured two groups of colour-coded Lemmings a time, each with different entry and exit points and able to pass over different obstacles.
Lemmings Paintball was an isometric action game in which lemmings play paintball. A bit like Cannon Fodder with puzzles.
The Adventures of Lomax, a pure Platform Game and Spiritual Successor to the non-Lemmings game The Misadventures of Flink.
Lemmings on PSP was a remake of the original, with a very nice graphical overhaul and added level editor. It was later ported to PS2 where it gained a number of Eyetoy levels where players use their body to form a path
Lemmings on the PS3 was a PSN download which returned to pure 2D. New mechanics included levels shrouded in darkness, so only the areas around torch-carrying Lemmings could be seen, bubbles that increased the number of tools you had, and clone vats that would copy the first lemming to walk by them, actually increasing the number of lemmings you have. And even more traps and ways to die.
Lemmings Touch on Playstation Vita, as the name implies, adds touch controls, as well as evil Lemmings who must be kept away from the exit.
A 2018 mobile game simply titled Lemmings. You must collect lemmings by saving them and using them to terraform various planets to inhabit, all while collecting goodies like various tribes. You aren't limited to a set amount of skills, rather to a pool of energy that lets you use any skill as long as you have energy.
And various spin-offs or rip-offs by other companies, that generally nobody's ever heard of, such as Critters or Flockers.
---
Let's Go! The Lemmings franchise provides examples of the following tropes:
They certainly were damaging for the Lemmings, and also had Gravity Screw, taking the Lemmings upside-down in some cases. In any case, they acted as a quasi-Unrealistic Black Hole.
---
Superb! You read every trope on this page. Can you do it again....?
---