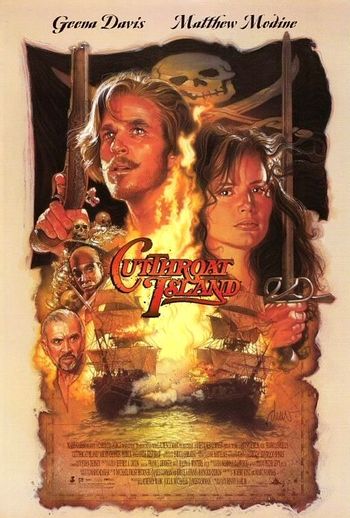 Cutthroat Island is a 1995 pirate movie starring Geena Davis and directed by her then-husband Renny Harlin, with the screenplay by Robert King and Marc Norman, and story by Michael Frost Beckner, James Gorman, Bruce A. Evans and Raynold Gideon. It was released on December 22, 1995.
In 1668, female pirate Morgan Adams (Davis) and her educated slave, William Shaw (Matthew Modine), are on a quest to recover the three portions of a treasure map. The treasure is hidden on the mysterious Cutthroat Island. Unfortunately, the final portion is held by her villainous uncle, Douglas "Dawg" Brown (Frank Langella). Her crew is skeptical of her leadership abilities, so she must complete her quest before they mutiny against her. This is made more difficult by the efforts of the Royal Navy from Jamaica under the command of the self-serving Governor Ainslee (Patrick Malahide) to end her piratical career. On her ship, Morning Star, Morgan starts the voyage to Cutthroat Island.
The film also stars Maury Chaykin as John Reed, Stan Shaw as Mr. Glasspoole and Harris Yulin as "Black" Harry Adams.
---
This film provides examples of:
---