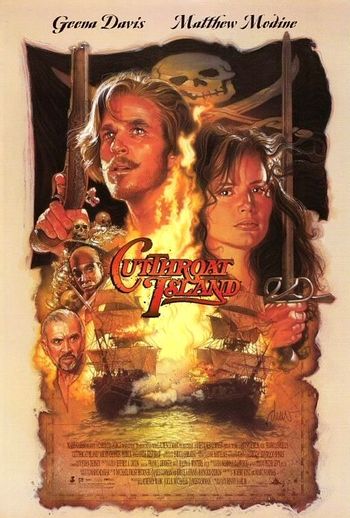 Cutthroat Island is a 1995 pirate movie starring Geena Davis and directed by her then-husband Renny Harlin. It was released on December 22, 1995.
In 1668, female pirate Morgan Adams (Davis) and her educated slave, William Shaw (Matthew Modine), are on a quest to recover the three portions of a treasure map. The treasure is hidden on the mysterious Cutthroat Island. Unfortunately, the final portion is held by her villainous uncle, Douglas "Dawg" Brown (Frank Langella). Her crew is skeptical of her leadership abilities, so she must complete her quest before they mutiny against her. This is made more difficult by the efforts of the Royal Navy from Jamaica under the command of the self-serving Governor Ainslee (Patrick Malahide) to end her piratical career. On her ship, Morning Star, Morgan starts the voyage to Cutthroat Island.
The film also stars Maury Chaykin as John Reed, Stan Shaw as Mr. Glasspoole and Harris Yulin as "Black" Harry Adams.
Cutthroat Island has gone down in history as one of the biggest Box Office Bombs of all time; in the same league as the likes of The Adventures of Pluto Nash, Cleopatra, Heaven's Gate, and Ishtar. It wasn't that the film failed to sell tickets. It earned $10 million in the United States market alone, the 108th most successful film of its year. But when your budget is closer to $115 million, do the math. The film's failure effectively led to the closure of Carolco Pictures (who went bankrupt six weeks before the film's release). The film is thus regarded as one of the last whose failure actually destroyed the studio that produced it. The film also killed the bankability of the pirate genre, which wasn't revived until Pirates of the Caribbean took off. Although it dented their careers at the time, Davis and Harlin both seem to have gotten on more or less okay in the long run. Screenwriter Robert King also managed to recover, having co-created The Good Wife.
---
This film provides examples of:
---