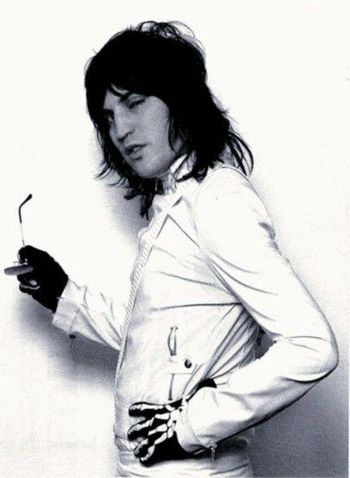 "Noel, next time you direct a loving look towards Paloma, can you make sure you give it to her because I just got a flash of it then, just got a bit of it myself and I started ovulating.
"
Noel Fielding (born 21 May 1973) is a British Perky Goth comedian. He's a renowned Cloudcuckoolander: A little boy from a magical wonderland of talking dragons and enchanted sea horses. He wears capes.
He's the star of the The Mighty Boosh, in which he plays the gender bending, ambiguously bisexual, beautiful idiot Vince Noir (though in reality, Fielding himself is highly intelligent and almost straight.) He also had a recurring role in The IT Crowd as daintily mannered goth sysadmin Richmond Felicity Avenal. Additionally, he was a minor character in the British indie film Bunny and the Bull, and a team captain on Never Mind the Buzzcocks. For the past couple of years, he's been a panel member on the Big Fat Quiz of the Year, pairing up with Russell Brand (as "The Goth Detectives") and Richard Ayoade, and doodling all over the answer sheets. He now has his own sketch show, Noel Fielding's Luxury Comedy. He was also a contestant on series four of Taskmaster.
His best friend is Julian Barratt, and this pairing is what led to the Boosh in the first place. His first major project was a short film called Sweet, although it was The Mighty Boosh that thrust him into the spotlight. He is the subject of many obsessive fans, mostly in the indie crowd. He's also incredibly attractive, and dresses to accentuate it.
Notable not only for his many achievements in comedy and music, but also the intense Ho Yay overtones of his relationships with everyone.
---
Noel Fielding exhibits the following tropes:
---