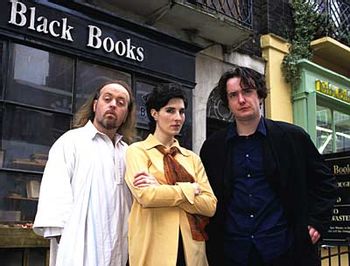 Black Books is a merrily cynical television comedy by Dylan Moran and Graham Linehan.
It was broadcast on Channel 4 between 2000 and 2004, starring Moran as Bernard Black, a foul-tempered Irish misanthrope who ostensibly runs a cluttered little London bookstore but rarely sells anything. (Because when people buy books, he sells books, and then he'd have to order books, and sell them again, and all that's just miserable.) Instead, he spends his time chain smoking, drinking cheap wine and verbally abusing everyone who crosses his path, especially his relentlessly excitable, somewhat naive assistant Manny Bianco (Bill Bailey). Bernard's friend and (rueful) one-time lover Fran Katzenjammer (Tamsin Greig) has limited success in making him occasionally stop being a total prat, but as she herself is a neurotic pessimistic drunk she can only do so much.
Relied on A Simple Plan for pretty much all of its plots. The characters would decide to go to a party, or do their taxes, or write a children's book, or something, and would more or less use this as a springboard for a lot of bizarre and/or appalling behaviour, until they eventually failed, or at best broke even.
Came fifty-eighth in Britains Best Sitcom.
Not to be confused with Black Book.
---
This show provides examples of
Extreme Omnivore: Bernard eats just about anything due to his sense of taste being destroyed by years of chain-smoking. Once, when extremely aggravated, he even ate most of a porcelain tea cup! He also mistakes a coaster for "some kind of delicious biscuit," proves capable of consuming slug pellets and oven cleaner without complaining, and thinks that wall moulding and oven knobs would make good ingredients for a fancy meal.
Mood Whiplash: The final episode's plot about deciding to go to the party takes a turn after they return where Bernard & Manny end up in an argument and Manny delivers a The Reason You Suck speech. Despite the rest of the episode still having comedic moments, it's still horrendously dark compared to the first half.
---
RIGHT, THE SHOP IS CLOSED; EVERYBODY GET OUT. TIME TO GO HOME, COME ON.