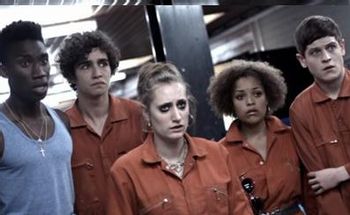 Curtis:
So, what happens now? Is this it? We gonna be like this forever?
Simon:
What if we're meant to be, like,
superheroes
?
Nathan:
Superheroes? You lot! No offense, but in what kinda fucked-up world would that be allowed to happen?
Misfits is a British Speculative Fiction series about a group of young offenders on a community service programme, who get caught in a freak electrical storm that imbues them with superpowers. The series debuted in November 2009 and the second series aired the following year with a bonus Christmas special. A third was broadcast in late 2011, minus Robert Sheehan (Nathan), and a fourth series in 2012. The fifth and final series aired in 2013. It won the BAFTA award for Best Drama Series in 2010.
The "Misfits" are a group of five 20-somethings who are united by a series of traumatic events, and the emergence of their freaky new superpowers. These newfound abilities all relate to their deepest personality traits and psychological drives; turning their desires into realities, and their greatest weaknesses into weapons.
The original cast:
Later additions to the main cast:
Rudy, a crude young man whose buried fears and emotions are represented by his more sensitive clone.(Series 3 onwards.)
Finn, an incredibly naive guy that never knows when to shut up, whose weak telekinesis is due to his own sense of powerlessness. (Series 4 onwards)
Jess, a fiercely outspoken girl with hidden vulnerability whose refusal to take bullshit from anyone is reflected by her ability to see through solid surfaces. (Series 4 onwards.)
Alex, the handsome but reserved local bartender who's not on community service, but seems to be keeping a power-related secret, revealed to be that

his genitalia had been switched by a power, which is eventually reversed. Series 5 sees him having a lung transplant giving him the ability to remove powers via sex.

(Series 4 onwards.)
Abby, a girl with a love of booze and an ever-present blank expression who lost her entire memory during the Storm. Series 5 reveals that

she didn't actually lose her memory (despite her opening titles segment not really making sense post-reveal) and is really the storm-caused manifestation of someone's imaginary friend.

(Series 4 onwards).
The Series is described by The Other Wiki as a "live-action superhero comedy drama", but is more frequently deemed X-Men meets Trainspotting.
Not to be confused with the band of the same name. Or Misfits of Science, which has a similar premise.
---
This show contains examples of the following tropes:
---