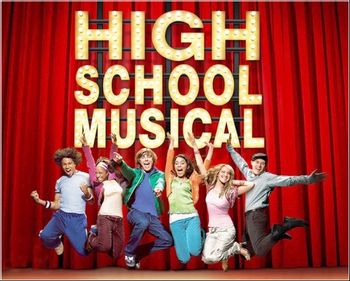 A 2006
Disney Channel
Original Movie
which became phenomenally popular, especially with tween girls.
Among others
.
Something of a spiritual successor to Grease, it is basically a Musical set in the fictional High School about the people trying out for their High School Musical and School Teams. The main setting mostly centers around fictional East High School set in real-world Albuquerque, New Mexico, but was actually filmed at Murray High School in Salt Lake City, Utah. With a Boy Meets Girl plot and an Alpha Bitchy antagonist. Lather, rinse and repeat.
The original did so well that it spawned two sequels, the second of which was released theatrically (making history as a movie franchise that started on TV and getting enough cred to be allowed to go to theaters), and a spinoff, titled Sharpay's Fabulous Adventure starring, of course, Ashley Tisdale as Sharpay. The pilot for a spinoff TV show, Madison High, where Mrs. Darbus relocates from East High to teach at a new high school, was filmed but not picked up. A fourth film with a new cast has been announced.
In November 2017, it was announced that Disney had greenlit a TV show based off the franchise, High School Musical: The Musical: The Series, which will be exclusive to Disney+ in 2019 (alongside properties based on Star Wars and Monsters, Inc.). The series is a Mockumentary about a group of East High students who stage a performance of, well, High School Musical.
The franchise also has Spiritual Successors: the major ones being Camp Rock and Descendants and the minor being Starstruck and Lemonade Mouth. It also has another major spiritual successor that also mashes it up with 60s beach/surfer films: Teen Beach Movie. It also spawned a cute little anime short parody where Stitch plays basketball and dances to "We're All in This Together".
The franchise also has a spiritual successor that premiered a year after the third film and is, well... not as innocent as the rest.
---
The films provide examples of:
---