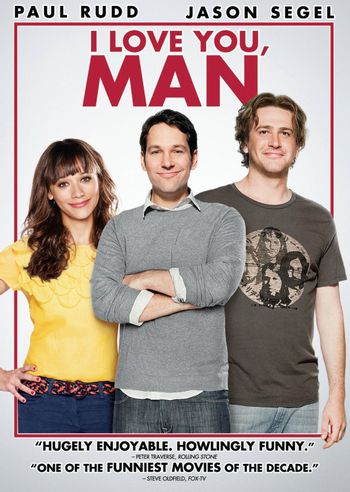 "I love you, Tycho Brohe."
— Sydney, during the wedding.
A 2009 comedy film directed by John Hamburg, the writer of Zoolander, as well as Meet the Parents, Meet the Fockers, and Little Fockers (but don't hold that against him). Peter has a good job, a nice house, and a beautiful girlfriend who has just become his fiancée (Rashida Jones). Things seem wonderful, until the fiancée's friends start to comment on Peter's apparent lack of male friends. Even his family can't seem to recall any. Soon, no one is sure who will be Peter's best man, or whether he will even have one. So he sets off on a quest to find a good male friend, by going on as many man-dates as he can. Hilarity Ensues.
Just about everything in the movie is played for laughs, especially the subtle (and not so subtle) homosexual undertones that come out of using RomCom tropes to tell a movie about two straight dudes. It may in fact merit being categorized as a bromantic comedy, perhaps the first full-fledged member of the genre.
Also notable for a highly talented supporting cast, many of whom would go on to achieve greater fame the following decade, including Aziz Ansari, J. K. Simmons, Andy Samberg, Jon Favreau, Jaime Pressly and Joe Lo Truglio.
---
This film provides examples of:
---