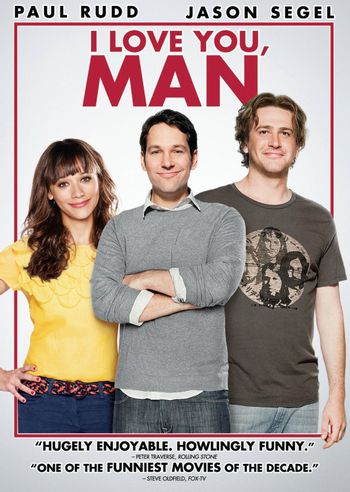 "I love you, Tycho Brohe."
— Sydney, during the wedding.
A 2009 comedy film directed by John Hamburg, the writer of Zoolander, as well as Meet the Parents, Meet the Fockers, and Little Fockers (but don't hold that against him). Peter has a good job, a nice house, and a beautiful girlfriend who has just become his fiancée (Rashida Jones). Things seem wonderful, until the fiancée's friends start to comment on Peter's apparent lack of male friends. Even his family can't seem to recall any. Soon, no one is sure who will be Peter's best man, or whether he will even have one. So he sets off on a quest to find a good male friend, by going on as many man-dates as he can. Hilarity Ensues.
Just about everything in the movie is played for laughs, especially the subtle (and not so subtle) homosexual undertones that come out of using RomCom tropes to tell a movie about two straight dudes. It may in fact merit being categorized as a bromantic comedy, perhaps the first full-fledged member of the genre.
Also notable for a highly talented supporting cast, many of whom would go on to achieve greater fame the following decade, including Aziz Ansari, J. K. Simmons, Andy Samberg, Jon Favreau, Jaime Pressly and Joe Lo Truglio.
---
This film provides examples of:
AB Negative: Sydney has it, and says he donates to the local bank every few weeks
Angrish: Sydney's reaction to being hit in the leg with a golf ball.

Sydney: Fucking cock...in my...fucking shit!!"

As Himself: Lou Ferrigno, as Peter's big real estate account. He's only on-screen for a little while, but the movie gets a lot of millage out of Ferrigno's former role.
Bullying a Dragon: Don't say "Fuck you" to Lou Ferrigno.
Curb-Stomp Battle: Sydney tries to fight Lou Ferrigno on Peter's behalf (because he was going to switch to another agent), and Ferrigno quickly knocks him out with a sleeper hold.
Even the Guys Want Him: Peter's gay brother Robbie, who openly admits that he doesn't even bother dating gay guys anymore because "straight" ones are more of a challenge. He then promptly picks one up by offering the guy a spot while he bench presses.
Good People Have Good Sex: Slightly subverted when Peter admits he'd like it if Zooey gave him more oral sex. Also subverted with Denise and Barry.
Green-Eyed Monster: A downplayed case, but Zooey — who is used to being the centre of Peter's world — clearly starts to feel a bit threatened by his developing friendship with Sydney.
Largely the point of the whole movie. See this article's intro.
And Peter's father and Hank Mardukas.
Karma Houdini: Barry never gets any sort of comeuppance for his Jerkass behavior. Not just because of his attitude towards Peter, but even the way he treats Denise. And, well, everybody.

That's not entirely true. He does get puked on, twice. I'd say projectile beer vomit to the face is fairly decent karma.
Terrible Interviewees Montage Peter's "man-date" montage is an example of an adaptation of the romantic comedy variation.
Title Drop: Parodied when their proclamations of (platonic) love escalate. Rapidly.

Peter: I love you, dude.

Sydney: I love you, Bro Montana.

Peter: I love you, homes.

Sydney: I love you, Broseph Goebbels.

Peter: I love you, muchacho.

The Unfair Sex: A mild instance - early in the film, Pete finds out that Zooey has told all of her girlfriends about an intimate night they had in a hottub and he is clearly annoyed by it. Later, when he admits he has told Sydney she doesn't like performing oral sex on him, she instantly yells "Ew, that's private!" and says that her telling her own friends is "so totally different." However, she does make the point that while they are very close, Pete has only known Sydney for a short time while she has known her friends for ages, and she is just as quick to admit that Pete is right when he calls her out on the hypocrisy, so it's not as bad as most cases of this trope.
---