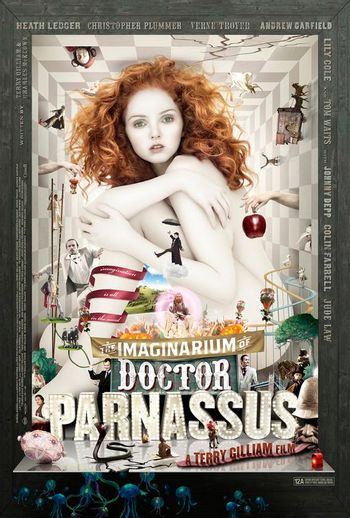 "Can you put a price on your dreams?"
— Tony
The Imaginarium of Doctor Parnassus is a 2009 film directed and co-written by Terry Gilliam, starring Heath Ledger in his final film role (for real this time), along with Christopher Plummer as the eponymous Doctor.
Thousands of years ago, Doctor Parnassus made a wager with the Devil (Tom Waits) to see if he could save more souls through the Power of Imagination than the Devil could take through fear and corruption. In modern times, a now immortal Parnassus is owner of a traveling theater troupe, the Imaginarium. Its prized possession is a magic mirror that transports customers into a fantasy land shaped by the Doctor's imagination. Parnassus is proud and the Devil is persuasive, and the stakes keep getting higher until Parnussus bets the soul of his own daughter to be claimed on her 16th birthday. When the Devil comes to collect, the only hope to save Valentina lies in a mysterious rogue named Tony.
Also stars (deep breath) Lily Cole, Andrew Garfield, Verne Troyer, Paloma Faith, Gwendoline Christie, Johnny Depp, Jude Law and Colin Farrell.
No relation to 2012's Imaginaerum, or to 2007's Mr. Magorium's Wonder Emporium. Or to the series of fantasy novels collectively titled The Chronicles of the Imaginarium Geographica, for that matter.
---
This film provides examples of:
---