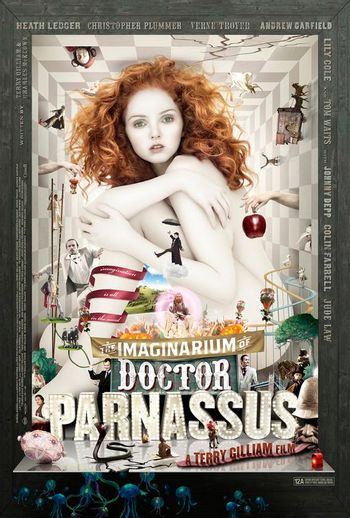 "Can you put a price on your dreams?"
— Tony
The Imaginarium of Doctor Parnassus is a 2009 film directed and co-written by Terry Gilliam, starring Heath Ledger in his final film role (for real this time), along with Christopher Plummer as the eponymous Doctor.
Thousands of years ago, Doctor Parnassus made a wager with the Devil (Tom Waits) to see if he could save more souls through the Power of Imagination than the Devil could take through fear and corruption. In modern times, a now immortal Parnassus is owner of a traveling theater troupe, the Imaginarium. Its prized possession is a magic mirror that transports customers into a fantasy land shaped by the Doctor's imagination. Parnassus is proud and the Devil is persuasive, and the stakes keep getting higher until Parnussus bets the soul of his own daughter to be claimed on her 16th birthday. When the Devil comes to collect, the only hope to save Valentina lies in a mysterious rogue named Tony.
Also stars (deep breath) Lily Cole, Andrew Garfield, Verne Troyer, Paloma Faith, Gwendoline Christie, Johnny Depp, Jude Law and Colin Farrell.
No relation to 2012's Imaginaerum, or to 2007's Mr. Magorium's Wonder Emporium. Or to the series of fantasy novels collectively titled The Chronicles of the Imaginarium Geographica, for that matter.
---
This film provides examples of:
Abominable Auditorium: The immortal Parnassus heads a traveling stage show that does avant-garde performances in London, but centuries of life have left him both alcoholic and apathetic, reducing the show to a shoddy laughingstock. It's subverted when we see the portable stage conceals a portal that leads audience members into Parnassus' mind and shows them their literal wildest dreams... but thanks to the influence of Mr Nick, the dreams can easily turn fatal if the participants can't resist their baser instincts, making it a complicated Villainous example.
Art Imitates Art: Many of the Imaginarium scenes were based on famous paintings. For example, the scene where Parnassus courts his wife, was based on Maxfield Parrish and Claude Monet, while Jude Law's scene was based on Grant Wood.
Bilingual Bonus: What does Tony say to a little Russian girl to (supposedly) calm her down (the scene then makes it to a charity poster)? 'Shut up, you little shit!'
Bittersweet Ending:

Parnassus is abandoned to the wilds of the Imaginarium and Mr. Nick refuses to tell him where Valentina is. He manages to escape many years later and see that she's now happily married with her own family but decides not to make himself known to her and returns to his street puppetry.
Deal with the Devil:

Parnassus makes bets with Mr. Nick, but the Devil (says he) enjoys the game more than the reward.

Tony accepted a loan from Russian mobsters, which ruined his reputation.

Decoy Protagonist: Anton at the film's beginning. Tony in the middle of the film. The ending makes it clear that the film's protagonist all along was

Parnassus himself

.
Devil, but No God: Unless the Wild Mass Guessing that Percy is God (or at least an angel) is true. Or perhaps the Devil is just God when he's drunk.
Dr. Genericius: Dr. Parnassus has an "us" at the end, such Latin-sounding names are common for wizard or scientist characters.
Friendly Enemy: The Devil, who seems to genuinely enjoy his chats with "Parny".
Good Smoking, Evil Smoking: Mr. Nick has a standard issue evil cigarette holder.
Green-Eyed Monster: Anton, from the moment Tony wakes up, starts treating him like a leper because of how much more talented he is with the crowd and Valentina's attraction to him. He is so jealous he acts like a rapist to get a client Tony had already convinced and nearly destroys the show and gets them arrested for it, then uses The Reveal of

Tony getting a loan from the Russians

immediately as "ultimate proof" of how Tony "tainted" the show, even though Tony had no obligation helping them. Heck, he even tries stealing Tony's cell phone when it started ringing, for no good reason!
Handsome Lech: Depending on your interpretation, this could be true of at least the

Colin Farrell

version of Tony, if not all.
---