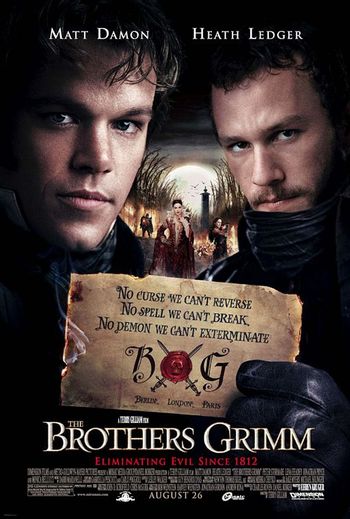 The Brothers Grimm (2005) is a fantasy-comedy film by Terry Gilliam, starring Matt Damon and Heath Ledger as Wilhelm and Jakob Grimm, a pair of con artists who claim to be able to exorcise hostile spirits. In addition, they write fanciful tales of their exploits, which viewers may recognize as early drafts of familiar Grimm fairy tales.
A wrench is thrown in their familiar plans when, passing through a small town in French-occupied Germany, they are charged with solving a mystery there. While the townsfolk believe supernatural forces are at work, their employer believes the disappearances to be the work of con artists like the Grimms themselves. What the brothers find is far darker than any con they have ever pulled off, and unraveling the curse will require true bravery rather than their usual theatrics.
Also stars Monica Bellucci, Lena Headey and Jonathan Pryce. Has practically nothing to do with the real Brothers Grimm or the Cinerama film The Wonderful World of the Brothers Grimm, which stars Laurence Harvey and Russ Tamblyn.
---
The Brothers Grimm provides examples of:
---