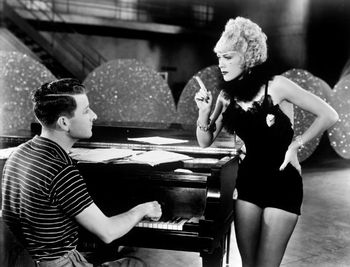 Broadway Melody of 1936 is a 1935 musical film directed by Roy Del Ruth, starring Eleanor Powell, Robert Taylor, and Jack Benny.
Taylor is Robert Gordon, a Broadway producer, who is looking for a star for his upcoming show. Irene Foster (Powell) is Robert's old high school sweetheart, who arrives in New York to look Robert up and ask him for a part in the show. Robert is interested in rekindling their romance but won't put her in the show, believing that grubby, nasty show business is no place for a sweetheart like Irene.
Meanwhile, gossip columnist Bert Keeler, whose editor has been pushing him for more salacious material, starts printing nasty rumors about Gordon, which results in Gordon repeatedly coming over and punching Keeler in the face. Keeler decides to get Gordon back by inventing a fake opera star, "LaBelle Arlette", and pumping her up in his column in order to trick Gordon into trying to hire her.
The second film in an unconnected series of musicals that started with The Broadway Melody and continued with Broadway Melody of 1938 and Broadway Melody of 1940. One of only a few hit films in Jack Benny's career, which mostly stayed confined to television and radio.
---
Tropes: