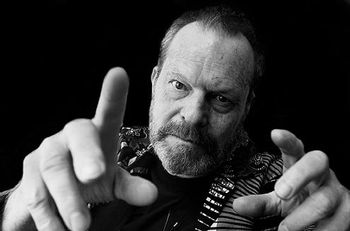 "The problem with movies is that you're in with the most bizarre group of people."
— as quoted in Losing the Light: Terry Gilliam and the Munchausen Saga
Terrence Vance Gilliam (born November 22, 1940) is an American-born British cartoonist, animator and film director, best remembered as the token American member of the very British Monty Python (although he held a dual citizenship during his years with them, and renounced his U.S. citizenship in 2006).
Born in Minneapolis and raised in Los Angeles, Gilliam began his career in the '60s as a photographer and cartoonist for Harvey Kurtzman's satirical magazine Help!. After that publication folded, he moved to the UK; there, he first came to prominence with the children's series Do Not Adjust Your Set, where he worked with several of his fellow future Pythons and for which his primary responsibility was creating the surrealist cut-out animations that he subsequently brought over to Monty Python's Flying Circus. As the latter series progressed, Gilliam also did many small roles the other Pythons didn't want to perform for various reasons, and had very few speaking parts, if you forget his voice acting during the animated segments (one of his most notable lines is "I want more beans!"; he was also Cardinal Fang of the Spanish Inquisition). He also helped write a number of the sketches, and from there co-wrote the troupe's three films based on original material with the rest of the troupe, on which he also played much more parts than he usually would in the series. He co-directed Monty Python and the Holy Grail and directed the opening segment of Monty Python's The Meaning of Life, "The Crimson Permanent Assurance".
From there, Gilliam moved into writing and directing non-Python films, though some of his fellow troupers have appeared in and/or co-wrote them. His specialties are fantasy and science fiction films, often laced with dark humor: one could construe his worldview as "We're all doomed! Isn't that hilarious?" He was J. K. Rowling's choice of director for the Harry Potter movies — however, Warner Bros. decided against it.
This is understandable, given that few directors in the history of film have been so prone to Executive Meddling, production delays and budget overruns, and just plain bad luck as Terry Gilliam. After Jabberwocky (1977) and the hit Time Bandits (1981), the first great tale of his struggles came with 1985's Brazil. It put him at odds with Universal Pictures when executives attempted to recut the movie, especially its ending; the subsequent book The Battle of Brazil tells the tale. His next film, 1988's The Adventures of Baron Munchausen, went wildly over budget and then bombed in the U.S. thanks to Columbia Pictures undergoing a regime change that kept it from getting proper release and promotion.
In the 1990s, things were looking up with The Fisher King (1991), 12 Monkeys (1995), and Fear and Loathing in Las Vegas (1998). Then at the Turn of the Millennium, his films became a parade of bad situations behind the scenes. The Man Who Killed Don Quixote took twenty five years of on-and-off production to complete thanks to trials and tribulations covered in the documentary Lost in La Mancha. The Brothers Grimm (2005) was beset by Executive Meddling, this time via Bob and Harvey Weinstein. Tideland (also 2005) made it to theaters, but was overlooked and shunned for containing some pedophilia (plus it was set in, and filmed in a desert, but it just kept raining during filming). The Zero Theorem (2013) was barely released and under-performed. And finally, perhaps saddest of all, The Imaginarium of Doctor Parnassus (2009) became Heath Ledger's final film when he died before completing his role.
Bad luck simply doesn't cut it: the man's cursed.
The Onion once joked that if Terry Gilliam were to have a barbecue, it would be beset by production delays
. But his perilous productions have resulted in a portfolio of, if not always successful, at least fascinating films.
---
Terry Gilliam's works on the wiki:
<!—index—>
<!—/index—>
---
Common tropes found in the films of Terry Gilliam:
---
And suddenly, the editor suffered a fatal heart attack
The trope description was no more. The quest for more tropes could continue.