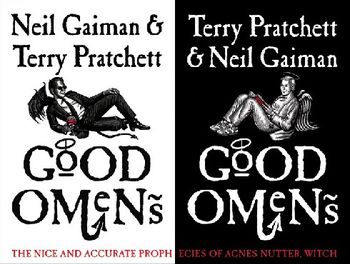 CAVEAT: Bringing about Armageddon can be dangerous. Do not attempt it in your own home.
Good Omens is a 1990 novel about the apocalypse co-written by Terry Pratchett and Neil Gaiman, in which The Antichrist is accidentally Switched at Birth and given to a normal family, where he grows up free from any influence of Heaven and Hell and becomes a completely normal and average child. Well, normal aside from the fact that he's subconsciously using his powers to make sure his small, quaint hometown stays small and quaint...
The mix-up causes plans for Armageddon to spin wildly out of control, as agents of both Heaven and Hell try to find out just why things aren't going as planned. Two of those agents, an angel (Aziraphale) and a demon (Crowley), who've come to realize that they have more in common with each other than with their superiors, are trying to find the Antichrist and put a stop to The End of the World as We Know It because they decided they like humanity. Also in the mix are the last witch-finder in England (and his new assistant), and a modern-day witch who is the heir to a book of oddly specific but still conveniently obscure prophecies.
Pratchett and Gaiman considered working on a sequel, but aside from the potential title 668: The Neighbour of the Beast nothing ever came of it. With the death of Pratchett, it is a near-certainty that the book will never see the light of day.
A four part mini-series adapting it was apparently in the works
, by Terry Pratchett's own production company, with Terry Jones (of Monty Python fame) and Gavin Scott writing the scripts, though nothing seems to have come of it. BBC Radio 4 aired a six-part mini series
adaptation of the book in December 2014, created by the same production team who did the celebrated adaption of Neil Gaiman's Neverwhere.
Amazon and the BBC greenlit a miniseries, which was written by Gaiman (with Pratchett's blessing). David Tennant plays Crowley, while the role of Aziraphale is filled by Michael Sheen. The full production began in September 2017, and the series was released on May 31, 2019, on Amazon Prime. Playing other roles are Anna Maxwell-Martin (Beelzebub), Michael McKean (Sgt. Shadwell), Miranda Richardson (Madame Tracy), and Jon Hamm (Archangel Gabriel). Please put tropes for that series here.
Some useful annotations for the inquiring (or nonplussed) reader can be found here
.
---
This book provides examples of:
The 2014 radio adaptation provides adaptations of:
---