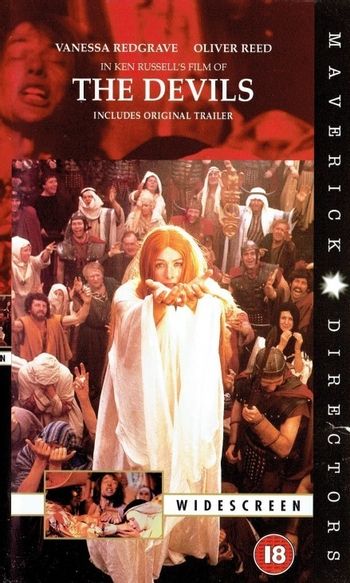 Ken Russell has really done it this time. He has stripped the lid off of respectability off the Ursuline convent in Loudon, France. He has exposed Cardinal Richelieu as a political schemer. He has destroyed our illusions about Louis XIII. We are filled with righteous indignation as we bear witness to the violation of the helpless nuns; it is all the more terrible because, as Russell fearlessly reveals, all the nuns, without exception, are young and stacked.
The Devils is a 1971 biographical horror film by English enfant terrible, Ken Russell. It tells the semi-true story of Urbain Grandier (Oliver Reed), a priest living in 17th-century France who is forced to defend his town of Loudon from the Roman Catholic church, whose leaders want it torn down. The Church decides to instigate a conspiracy against Grandier, framing him for demonic possession of a local nun, Sister Jeanne (Vanessa Redgrave), who is sexually obsessed with Grandier, and the perfect target for the Church's manipulation.
Because the film contains scenes like nuns raping a statue of Jesus before having a massive orgy, the film was condemned by virtually every Moral Guardian at the time of its release, and cut to ribbons on various cinema releases. The film remains unreleased on DVD and its US rights holders (Warner Bros.) have yet to release it... though strangely, they had no problem directly referencing it in, of all things, Space Jam: A New Legacy. Its reputation may have inadvertently led to the rise of the "nunsploitation" genre in the decade after its release.
---
Tropes:
---