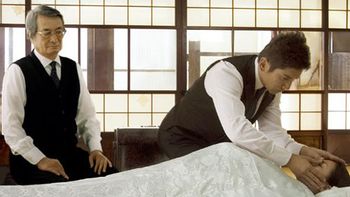 "Death is for the living and not for the dead so much."
Departures is a Japanese film directed by Takita Yojiro and scored by Joe Hisaishi, which won the Oscar for Best Foreign Film in 2009.
Kobayashi Daigo is a cello player in a classical orchestra in Tokyo, but when his cash-strapped ensemble is disbanded, he finds himself without a job. Having spent a small fortune on a new cello, Daigo and his wife Mika cannot get by with what savings are left, prompting Daigo to give up on music, sell his cello, and move back to his hometown in Yamagata prefecture, in northern Japan. He settles in his late mother's house with Mika, and applies for what looks to be a travel agency job in "departures."
Offered an immediate start and a fantastic wage simply for turning up, Daigo presses business owner Sasaki and learns that the ad was a misprint: the job is with "departures" in the sense of "the recently departed". Hardly enthused about being a type of mortician, Daigo reluctantly becomes an assistant, an especially undesirable job due to the lingering association of such work with the Untouchable or Burakumin caste in Edo-era/pre-1868 Japan. Daigo, at first reluctant, warms to the job, as he discovers it implies a deep form of respect and care for the deceased. In a heavily ritualized ceremony, his boss and he prepare the bodies for encoffinment, before the eyes of the relatives.
Of course, Daigo soon has to deal with hiding his job from his wife, along with getting used to some gruesome and especially trying work.
Not to be confused with the travel series of the same name.
---
Contains examples of:
---