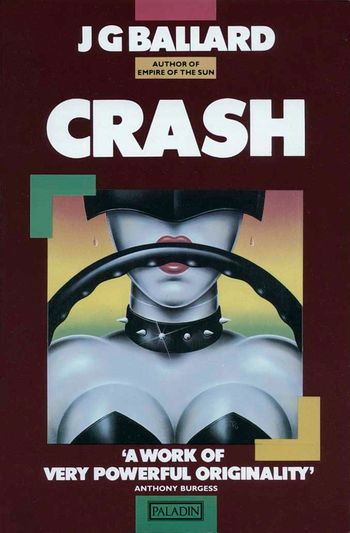 "The car crash is a fertilizing rather than a destructive event."
— Dr. Robert Vaughan
Crash is an infamous 1973 novel written by J.G. Ballard, which details one man's journey into the heart of a bizarre group of individuals fascinated with Auto Erotica.
A film producer named James Ballard and his wife, Catherine, spend their days having illicit affairs to fill an emotional void in their lives. When Ballard and Catherine get into a car crash that kills the driver of another car, the surviving passenger (Helen) introduces herself to them, and leads them to an underground subculture devoted to staging car crashes as a sexual fetish. Once there, Ballard meets Robert Vaughan, a scientist-turned-auto-aficionado who turns Ballard and his wife onto the erotic nature of auto accidents...
Although the book was highly controversial (Ballard was initially referred to as "beyond psychiatric help" by one publisher who refused to print it), the book went on to some minor acclaim. It was a significant lyrical and stylistic influence on British Post-Punk and Electronic Music, being direct inspirations for seminal Synth-Pop records by The Normal ("Warm Leatherette") and John Foxx (Metamatic). It later inspired a 1996 film adaptation directed by David Cronenberg, and starred James Spader as Ballard, Elias Koteas as Vaughan, Rosanna Arquette as Gabrielle and Holly Hunter as Helen, among others.
In no way, shape or form to be mistaken for the 2005 Oscar winner or a completely different novel by Jerry Spinelli.
---
This book and film feature examples of:
---