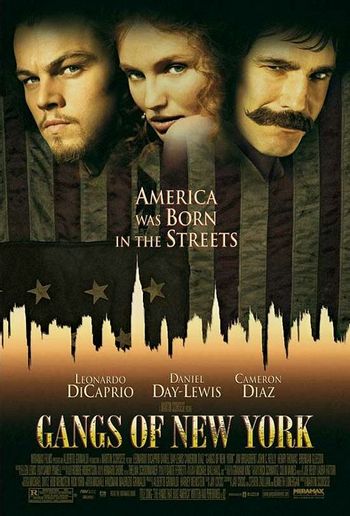 "Mulberry Street... and Worth... Cross and Orange... and Little Water. Each of the Five Points is a finger. When I close my hand it becomes a fist. And, any time that I wish, I can turn it against you."
— Bill the Butcher
A 2002 historical crime-drama by Martin Scorsese, based on a 1928 nonfiction book of the same name.
It's 1846, and rival gangs are fighting over the Five Points district. Priest Vallon (Liam Neeson) leads the "Dead Rabbits", the gang of Irish-Catholic immigrants. Bill "The Butcher" Cutting (Daniel Day-Lewis) leads the anti-immigrant "Natives". During a bloody battle, Bill kills Priest and declares the Dead Rabbits outlawed as Priest's young son Amsterdam watches.
15 years later, Amsterdam (Leonardo DiCaprio) returns to the Five Points and infiltrates Bill's gang with his childhood friend Johnny's help, working his way into Bill's inner circle. Bill, who never recognizes Amsterdam as the son of his old rival, takes him in as a favorite and mentors him. Amsterdam secretly plots his revenge, but doubts his motivation after saving Bill from an assassin. Amsterdam and Johnny's shared attraction for Jenny, a pretty pickpocket and con artist, further complicates matters.
All of this is set against the backdrop of The American Civil War and political corruption of the 19th century. The feel of the era is firmly established through small touches, such as Bill's gang mocking a theatre performance of Uncle Tom's Cabin, and the rampant racism of Civil War America is prevalent throughout the film. Bill maintains most of his power through an uneasy alliance with the Tammany Hall political machine; a critical turning point occurs when Amsterdam wins Tammany to his side by promising him the Irish vote. The film's climax occurs as the New York Draft Riots break out and the U.S. government resorts to violence to stop the insurrection.
Ends in a famous Time Passes Montage featuring the changing skyline of New York over the years, which caused Scorsese no end of hassle in the wake of 9/11.
---
This film provides examples of:
---