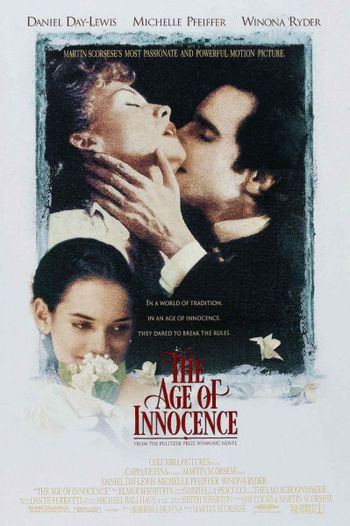 Newland Archer: I want—I want somehow to get away with you into a world where words like that—categories like that—won't exist. Where we shall be simply two human beings who love each other, who are the whole of life to each other; and nothing else on earth will matter.
Ellen Olenska: Oh, my dear—where is that country? Have you ever been there?
The Age of Innocence is a novel by Edith Wharton. Originally published in 1920, the book won a Pulitzer Prize in 1921. A member of New York High Society, Wharton had formerly criticized that world extensively in her novel The House of Mirth, yet looking back at that world after World War I, she felt compelled to revisit the setting and write something less critical (at least by her standards).
The story follows Newland Archer, a lawyer who is engaged to May Welland. Both of them are part of the high society of 1870s New York, its circle of richest and oldest families. High society at this time was highly ritualized and snobbish and it faces a challenge with the arrival of Countess Ellen Olenska. Ellen was a cousin of May who married and settled in Europe, but returns fleeing a bad marriage. The worldly Ellen is the exact opposite of the well-bred May, and Newland, who seems himself as more refined and sensitive than his fellow upper-class New Yorkers, becomes infatuated with her and begins questioning whether he should risk it all, break his engagement with May, and be with Ellen instead.
The novel was adapted into film versions in the 1920s and 1930s, but the definitive version is the 1993 adaptation, directed by Martin Scorsese and starring Michelle Pfeiffer, Daniel Day-Lewis, and Winona Ryder. This version is remarkably faithful to the novel, with whole passages and dialogue translated from page to screen. It won an Academy Award for Best Costume Design (Gabriella Pescucci) and is regarded as an exceptional recreation of old New York high society. Scorsese has called The Age of Innocence by far his most violent movie
; considering his filmography, it's quite the statement.
---
Tropes common to novel and the 1993 film:
---