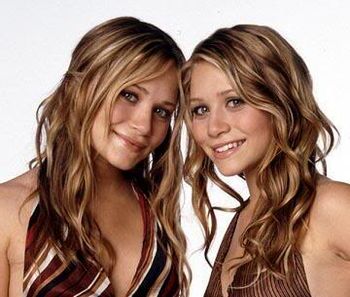 Before Millie Bobby Brown, before Emma Watson, there was the Olsen twins...
Mary-Kate and Ashley Olsen (born June 13, 1986) are twin actresses who became famous for playing Michelle Tanner in Full House. They parlayed that fame into a highly lucrative series of straight-to-VHS movies, leading them to become the top earning stars under the age of 21 from the early 90's to the mid 2000s. They stopped acting as a duo in 2004, after the financial disappointment of New York Minute, but continued to profit handsomely from royalties, earning $40 million in 2006 even though they hadn't acted in anything. In 2007 Forbes ranked the twins as the eleventh-richest women in entertainment, with an estimated net worth of $100 million. Their success has led to a number of attempts to heavily promote other young twin actor pairs.
Their later teen years were common fodder for tabloid news. As adults, their focus shifted from acting to fashion, and they've used their considerable personal wealth to produce numerous clothing lines. In Fall 2008, the girls wrote a book called Influence as "a tribute to designers, artists and other industry creative individuals who inspired them." Mary Kate continues to act occasionally in movies and TV shows, while Ashley has forgone acting entirely to focus on their fashion business.
A little known fact is that they're not actually identical twins biologically speaking—they're just fraternal twins who happen to look identical. The twins have four other siblings outside of each other—an older brother named Jake, a younger sister named Elizabeth (who's an actress like her older sisters are), and two younger half-siblings named Trent (brother) and Courtney Taylor (sister) from their dad's second marriage. The Olsen twins also inspired the parody Web series Very Mary Kate.
---
Mary-Kate and Ashley Olsen have appeared on these works:
---
Some tropes used by their works:
---